Sheffield-developed HeadUp Collar wins global award for patient driven research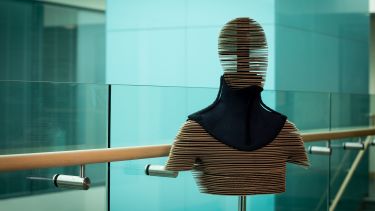 The HeadUp Collar is a neck support collar designed specifically for people with Motor Neurone Disease (MND)
The collar was co-created with patients at every step of the design pathway, from its initial proposal right through to its roll out within the NHS and to more than 13 countries worldwide.
Led by Professor Chris McDermott, a Professor of Translational Neurobiology at the University of Sheffield, multiple organisations across South Yorkshire were involved in the design, production and testing of the HeadUp Collar, including interdisciplinary researchers from the University of Sheffield and Sheffield Hallam University, NIHR Devices for Dignity Med Tech Co-operative and orthotics company TalarMade. 
Supported by funding from the National Institute for Health and Care Research (NIHR) and Motor Neurone Disease Association, co-design workshops and feedback from local research advisory groups shaped this research to create a product perfectly aligned to the needs of patients
The project has now won a global award for its outstanding contribution to the patient engagement landscape
Motor Neurone Disease (MND) destroys the cells that control our muscles, which can make it difficult to move. People with MND are often unable to lift their head, leading to neck pain, restricted movement, and problems with swallowing and talking. By working directly with people affected by MND, researchers across Sheffield identified that currently available neck collars were not supportive or comfortable for people with MND, often being designed for other uses such as sports injuries. 
Professor Chris McDermott, a Professor of Translational Neurobiology at the University of Sheffield was approached by a patient who felt his needs weren't being met by the collars available. The supportive collars were too hard to be comfortable and the comfortable collars were too soft to be supportive. So it fell to Professor McDermott and his team to develop the Goldilocks of MND collars - one that was just right.
A cross-organisation collaboration of NIHR Devices for Dignity Med Tech Co-operative (D4D), NIHR Sheffield Biomedical Research Centre, Sheffield Teaching Hospitals NHS Foundation Trust, Motor Neurone Disease Association (MNDA, South Yorkshire Branch), Sheffield Hallam University (incorporating Lab4Living) and The University of Sheffield and its institute for Translational Neuroscience, employed a patient-centred approach to developing a new collar. 
NIHR Invention for Innovation (i4i) funding enabled researchers to run co-design workshops and focus groups involving members of the Sheffield Motor Neurone Disorders Research Advisory Group (SMNDRAG). Patients, family members, researchers and clinicians were involved in an iterative design process to make a new collar, called 'HeadUp', that improved the quality of life for people with MND. More than 80% of MND patients reported that they could now comfortably eat, drink and read. 
It was through working with patients that Professor Chris McDermott experienced a truly significant moment. In one of the patient-designer group meetings a patient articulated that she wanted the collar to allow her to turn her head from left to right. The designers listened to this, went away and a month later produced a new prototype that enabled that range of motion.
It seems so obvious when you think about it but working with the patients themselves to come up with the solution to their problems isn't an approach that is often taken.

Professor Chris McDermott

Professor of Translational Neurobiology at the University of Sheffield
A further NIHR i4i grant and Motor Neurone Disease Association charity funding, for which a member of SMNDRAG became a co-applicant, supported the manufacture and testing of these collars in people with MND at 10 sites across the UK. An Expert Patient Group and SMNDRAG members remained involved during the clinical trial stage, providing feedback on trial documents, monitoring participant experiences and improving a data collection tool used to evaluate the comfort and perception of the collar. The HeadUp collar has been rolled out across the NHS and is now available in more than 13 countries internationally, improving the lives of patients around the world. TalarMade also offers a private clinic enabling patients to be assessed and fitted in an accessible space. 
The Made with Patients Awards, hosted by the Patient Focused Medicines Development (PFMD), celebrate those who are driving patient engagement forward in the development of medicines, medical technology, and digital health. This is the first ever global award celebrating excellence in patient engagement. 
The design process of the HeadUp Collar was selected by a multi-stakeholder jury of patient engagement experts as the winner out of 44 nominated initiatives, highlighting the success of this collaborative approach. Those working on the research were invited to attend an awards ceremony held during the Patient Engagement Open Forum 2023 (PEOF) on June 14th 2023. 
Professor Christopher McDermott, NIHR Research Professor and Neuroscience Theme Lead of the NIHR Sheffield BRC, said: "While we wait for a cure for MND we must try to maximise the quality of life and dignity for those living with this devastating disease. Our team works with people living with MND and their carers to identify the day-to-day issues that we need to address. Patients told us that the head support collars they were being given were of no use and was there anything better. There wasn't and so we set out to work together as a team from day one of the project to understand what was wrong with the current collars and develop something that worked." 
"We had an amazing team and the ideas really did come from those with lived experience and putting them in the same room as engineers and designers made their ideas come to life. Unfortunately, some of the co-creators of the HeadUp collar have passed away but they have brought some small relief to those living with MND now."
Dr Joe Langley, from Sheffield Hallam University's Lab4Living, said: "For our NIHR i4i HeadUp project to receive the inaugural global "Made with Patients" award out of 44 worldwide nominations, is huge recognition of the contribution that patients and their families made to this work throughout, from identifying and validating the unmet need, co-designing the medical device, evaluating, to marketing, commercialisation, and global distribution."
"This project was based on an interdisciplinary collaboration of many different organisations, disciplines, and experts – and our patient expertise was at the heart of our collaboration from start to finish."
 "It is particularly rewarding for the project to still be recognised as an exemplar of working with patients even though the work was completed nearly 10 years ago. It is a testament to the genuine and authentic role patients played throughout the project."
"Improving 'day-to-day' mobility was an issue identified as the need, and the solution here was relatively low tech. From a tech investment perspective, this was unlikely to make big profits, potentially making it a less attractive project. The NIHR took a risk - but the work resulted in such a dramatic impact on quality of life. Sometimes the right thing to do is not about making huge technological advances. Truly patient driven issues and solutions are often 'simple' things."
Andy Stanton, Design Researcher at Lab4Living, said: "Working over a long period with the same group of patients was very rewarding for me as a designer. I could see how their engagement and interest increased as the sessions progressed because they knew their input was being listened to and incorporated directly into the designs."
"I was inspired by the altruism of the patient participants, who were living with degenerative disease and were willing to give up hours of their time. We had some frank conversations during the codesign sessions. The patients knew that they may not personally see the benefits of the final product, if it came to market. But they knew their efforts would help future generations and that was important to them."
Lise Sproson, Patient and Public Involvement and Engagement Lead at NIHR Devices for Dignity Med Tech Cooperative, said: "This was a fantastic co-design process to be involved with, keeping people with lived experience of MND (patients and families) and people with other long term neuro conditions at the heart throughout the process.  Their generosity of time and ideas about the need for a collar which could be comfortable as well as supportive, how it should look and feel, and feedback on early design drawings and prototypes, right through the design and trial was crucial to the overall success."  
"This inaugural Made with Patients Award - and the recognition it brings- is a great tribute to the impact their input achieved throughout the co-design process.  It is also an excellent opportunity to underline the importance of involving people who will be future users of any health technology in its development. Only in this way can we make products which are useful, usable and fit for purpose."
This award recognises the exemplary work of all those involved in the HeadUp design process and the success of involving patients at all stages of the research cycle. The HeadUp Collar design process also features in the 2nd edition of the Book of Good Practices, published by the PFMD.
Partner with us
We're proud to work with local and global organisations to further enhance our translational research.
Flagship institutes
The University's four flagship institutes bring together our key strengths to tackle global issues, turning interdisciplinary and translational research into real-world solutions.