Company born from University of Sheffield collaboration sold for $69 million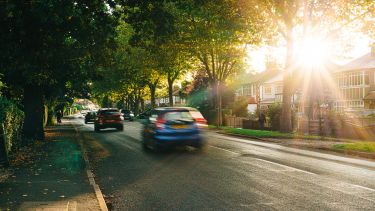 A company created with the support of University of Sheffield academics and alumni whose cutting edge technology is helping to keep road users safe and bring down the cost of insurance, has been acquired by a NASDAQ-listed company for approximately $69 million
The private Sheffield-based company was founded from a collaboration with academics from the University's Department of Computer Science and is now a world leader in connected insurance technology - helping to keep road users safe and reduce the cost of insurance for safe drivers
The Floow's 10-year research and development (R&D) collaboration with the University has been instrumental in its success and helped set apart its technology from its competitors
A company created with the support of University of Sheffield academics and alumni, whose cutting edge technology is helping to keep road users safe and bring down the cost of insurance for those who drive safely, has been acquired in a deal worth approximately $69 million.
The Floow, a private company and leader in connected insurance technology, has been acquired in a cash and stock deal by NASDAQ-listed company, Otonomo Technologies Ltd.
The company was founded in 2012 from a collaboration between London-based Italian entrepreneur Aldo Monteforte, Professor Fabio Ciravegna from the University's Department of Computer Science and University of Sheffield alumnus Dr Sam Chapman (PhD in Computer Science). 
With its headquarters in Sheffield, the company has drawn on research and innovation from the University to develop world leading telematics - technology that can monitor a wide range of information relating to an individual vehicle or fleet of vehicles. 
The Floow has developed unparalleled data collection and analytics capabilities. This has helped insurance companies to introduce connectivity to their products and differentiate their offerings through a more precise understanding of risk in the context of personalised products and services, improved road safety through driver coaching and timely, accurate roadside assistance.
These world leading capabilities have helped to develop new products and services that insurance companies can use to model the driving quality of their customers hence, enabling them to give discounts to those who drive more safely.
DirectLine Group, the UK's largest insurer, has commercialised the technology in the UK. The Floow also collaborates with insurance companies in North and South America, Africa and Europe.
Professor Fabio Ciravegna, Professor of Pervasive Computing at the University of Sheffield, said: "The experience with The Floow shows that the University of Sheffield provides an ideal ground for business opportunities by nurturing talents and supporting the generation of ground breaking results." 
Since moving to Sheffield in 2000, Professor Ciravegna and his research group have created three startups and generated new intellectual property for companies such as Rolls Royce, Justgiving and Football Whispers. Professor Ciravegna is also the director of a University Technology Centre on Artificial Intelligence for Defence and Security funded by the Ministry of Defence. 
Professor Dave Petley, Vice-President for Innovation at the University of Sheffield, said: "I'm delighted to see the success of The Floow since launching 10 years ago. The Floow's journey is a great example of our impact activity, illustrating the vital contribution that we make to innovation throughout South Yorkshire, the UK and beyond. Congratulations to everyone involved. I'm looking forward to seeing many more success stories from the University of Sheffield over the next few years as we recover from the pandemic."
For more information on The Floow, visit: https://www.thefloow.com/ 
Contact:
For further information please contact: