A summer of Sheffield heritage, designed by you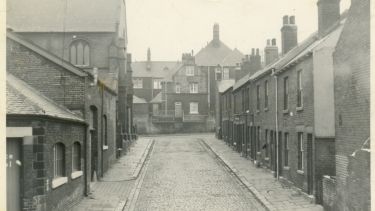 University of Sheffield Roots & Futures project will help to embed the perspectives of currently underserved communities in the city's heritage strategy and policy
Project team will host a variety of sessions starting in April 2022 where residents will be able to contribute to community decision making and forming heritage policy for the city
Project builds on successful Kelham Island Museum exhibition in 2021, which explored the rich heritage of the former industrial areas of the city
Project hopes to create new heritage 'toolkit' that can be used to help local authorities plan their own heritage strategies, led by the stories of their own residents
Residents of Sheffield have the opportunity to shape a summer of heritage decision-making in the city thanks to a new project at the University of Sheffield.
The Roots & Futures project team from the Department of Archaeology has worked with Sheffield communities since 2020 to share their memories and stories and to learn about the heritage that really matters to the residents of the city.
Last year, the project held its first exhibition at Kelham Island Museum (still available online) which explored the rich heritage of the former industrial areas of the city and its diverse communities from Netherthorpe, Upperthorpe, Kelham Island and Neepsend.
Now the project has received £86,000 from the Arts and Humanities Research Council (part of UK Research and Innovation), to expand its model of community engagement, which focuses on embedding the perspectives of currently underserved communities (including Sheffield's Black, Asian and minority ethnic communities) in the city's heritage strategy and policy.
It is hoped the research, the first to link heritage strategy-makers and policy-makers with researchers and communities, will form a model that can be replicated in cities across the country to bolster community engagement for local heritage projects.
Dr Elizabeth Craig-Atkins from the Department of Archaeology, said: "We are organising a summer of activities that will provide an opportunity for Sheffield's residents to tell us how they want to see the city's past represented.
"Our exhibition last year at Kelham Island Museum celebrated the vital part diverse communities play in shaping the story of the city. So we are inviting residents to contribute to the next phase of our project, to work with us to shape Sheffield's heritage strategy so that it embeds the voices of all Sheffield's communities, and translates into the wider city's heritage policy."
Taking place on Tuesday 5 April 2022, the first workshop will be held at The Sanctuary, Sheffield City of Sanctuary, 37-39 Chapel Walk, S1 2PD from 10am-1pm and you can book your place via the eventbrite page if you would like to attend.
The first workshop is particularly suited to representatives of groups or organisations who can offer perspectives of currently underserved communities, including Sheffield's Black, Asian and minority ethnic communities, to ensure our programme of summer activities is designed with the full range of needs of these communities at its heart.
Valerie Bayliss, of Joined Up Heritage Sheffield, which has worked closely with the University of Sheffield to create an action plan for the first grass-roots, community-led heritage strategy in the country, said: "Heritage is often thought of as just old buildings but it is much more than that, including natural and cultural heritage and historical personal and community narratives from across the whole city.
"We are hoping this project will enhance the great variety of heritage activity already taking place in Sheffield and build on work to ensure that Sheffield's heritage is understood and valued in all its diversity. We want our communities to have the opportunity to directly shape how they want their stories to be told."
The funding award recognises the research being done by Dr Craig-Atkins and her team as having national significance. As well as bolstering the heritage and cultural offerings of Sheffield, the work will form the basis for a toolkit that can be used by places across the country, in a 'how-to' of enriching their own heritage offer.
Dr Craig-Atkins commented: "As far as we know, we are the first city that has designed a heritage strategy that is grass-roots led, putting in place ways for our amazing communities to tell the real histories of their city, places and its people. The current strategy forms an excellent platform to be translated into heritage policy that brings lasting and positive change for underserved communities."
Professor Rebecca Madgin, Arts and Humanities Research Council (AHRC) Programme Director, said: "Bringing together arts and humanities researchers and policy makers is essential to ensure decision making at every level takes into account the full breadth of our lived and felt experiences.
"The initiatives funded as part of this investment will benefit places across the UK by bringing people into important decisions about local culture, heritage, and infrastructure.
"AHRC is proud to support projects which will deliver real benefits to local communities and their places across the UK."
Information about summer events will be shared through the varied Sheffield community organisations the project has partnered with. You can keep updated with the project on twitter by following #RootsAndFutures and at https://www.sheffield.ac.uk/archaeology/research/roots-and-futures
---
Flagship institutes
The University's four flagship institutes bring together our key strengths to tackle global issues, turning interdisciplinary and translational research into real-world solutions.