Annual open research lecture - December 2023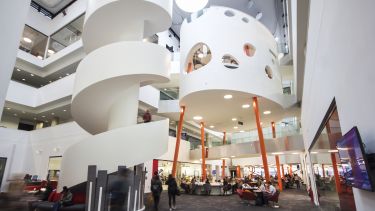 Event details
Wednesday 6 December 2023
---
Description
Open research - the set of practices that enable us to increase our work's reach and impact by opening up research outputs and methodologies to a wider audience - is quickly gaining momentum in the Higher Education landscape. Our Annual Open Research Lecture, introduced in 2022, offers an opportunity to think through some of these ideas and their underlying philosophies and politics, in an inclusive and collegial atmosphere.
This session will be held in-person, with a hybrid option also available. It would be fantastic if as many people as possible can join us in person for the lecture and reception, but please do of course join online if this is not possible.
The lecture will be followed by a drinks reception for all attendees.
This year's lecture will be presented by:
Dr Matthew Hanchard
Research Associate, Department of Sociological Studies and iHuman institute
---
Outline:  
Qualitative research: Towards a new socio-technical imaginary of open research
From the 1665 publication of Philosophical Transactions onwards, there has been a clear sociotechnical imaginary - or collective vision of what science ought to be - centring on openness, sharing, and transparency. This openness enables claims to be disproved (or not), which lies in conflict with any closing-down of knowledge-sharing for commercial reasons. These contradictory forces of openness and commercially-motivated closedness led to developments like the internet and Web drawing on reconfigured imaginaries which include some elements of both. As a closed military defence project opened to a small academic community, and then the wider public, the development of the Web was steeped in a free and open-source ethos, albeit with private ventures reaping rewards of collective endeavours. In doing so, it followed a post-World War II configuration of pure science being state-funded or citizen-led, with applied derivatives left to a free market. Operating within this environment, and amidst a turn to neoliberalism, scientific research and publication met monopoly capitalism in the early 2000s, raising concerns over the future accessibility and openness of both pure and applied science.
By the early 2010s, the US Office of the President, European Commission, UNESCO and several funding bodies mandated that the research they fund must be published open access - a move to reassert accessibility, openness, and transparency, for non-applied science at least. This has recently been extended to data, posing challenges for qualitative research - often steeped in interpretivism, which makes data hard to verify. Building on the notion of 'renderability' to articulate claims to transparency from non-STEM research, in place of concepts of reproducibility or replicability, this lecture examines existing examples of open qualitative research to theorise the contours of a new landscape emerging around open qualitative research.
Events at the University
Browse upcoming public lectures, exhibitions, family events, concerts, shows and festivals across the University.