The Pennine Water Group (PWG) was an Engineering and Physical Sciences Research Council (EPSRC) funded Platform Grant centre dedicated to research into water and wastewater.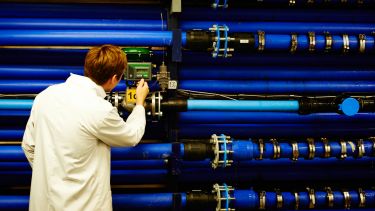 Based at the University of Sheffield, PWG was headed by a Management Team including Professor Joby Boxall (Potable water research), Professor Simon Tait (Pollution & Sewer Systems), Emeritus Professor Adrian Saul (Sustainable Integrated Systems), Professor Catherine Biggs (Bio-engineering), Professor Kirill Horoshenkov (Adaptative sensors) and Dr Liz Sharp (Engagement & Governance).
The PWG aimed to advance engineering and scientific knowledge across all aspects of:
Potable water
Stormwater and wastewater service provision
Management of associated assets
Group activities included fundamental and applied research, the implementation and dissemination of research outputs and the provision of education and training.
Strategic vision
Our strategic vision was to develop from a multi-disciplinary to a trans-disciplinary group through closer integration with industry and foster new interdisciplinary research ideas.

Our vision for development had 3 key areas:
Implementation and Governance
Sustainable System Integration
Development and Implementation of New Technology Advances
---
Our aims and objectives
Crossing boundaries
Our strategic vision was to maintain and extend the breadth and depth of group activities at home, in Europe and Overseas.
Crossing boundaries was the group's key strength and it was crucial that we facilitated the continuing exchange of our research and perspectives. We saw opportunities to better link mathematics to our engineering and to improve our understanding in bio, eco and human-related engineering, asset management and sustainability of water services.
Our activities included the interactions of other types of service and infrastructure provision, such as energy and waste, with the water cycle. As part of this, we saw new opportunities in utilising cyberinfrastructure for more effective and robust water system management.
Broad-ranging academic environment
The Group comprised academics from a broad range of disciplines, including ecology, social sciences and economics in addition to engineering. We had an active programme of research, ranging from theory-driven fundamental research, numerical modelling to industry-led applied research and consultancy.
We had strong links with a number of UK industrial and European partners, and our work was steered by an International Advisory Group.
New initiatives included a recent strategic partnership with Yorkshire Water, who funded mutually beneficial research over 5 years as part of the designation of Adrian Saul as Yorkshire Water Professor of Water Engineering.
Flagship institutes
The University's four flagship institutes bring together our key strengths to tackle global issues, turning interdisciplinary and translational research into real-world solutions.