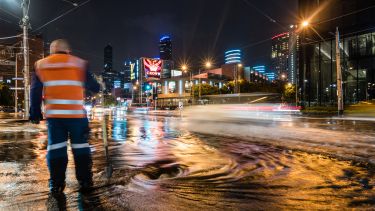 This research activity can be divided into aspects related to:
Environmental hydraulics
Professor Simon Tait and Dr Alma Schellart work on understanding the processes of sediment retention and transport in sewers.
Dr Songdong Shao works on coastal and river hydrodynamics and sediment transport. His special fields include the simulation of free surface flows and fluid-structure interactions using the mesh-free numerical modelling techniques.
Dr James Shucksmith works on hydraulic and pollutant transport processes within urban drainage systems and receiving waters, including quantifying the impact of channel vegetation of water flow and quality processes, optimisation of asset management strategies with regard to receiving water conditions, investigation of the impact of channel hydraulics on ecological status, and uncertainty within urban and surface water quality models.
Dr Virginia Stovin applies Computational Fluid Dynamics (CFD) modelling tools to understand the complex 3D flow patterns that control the transport of solutes and sediments through drainage systems.
Sustainable drainage systems (SuDS)
Dr Virginia Stovin works on understanding and developing models to describe the hydrological performance (i.e. runoff retention and detention characteristics) of SuDS devices. Recent work has focused on Green Roofs, retrofit SuDS, urban green infrastructure and large-scale rain water harvesting.
---
Facilities & resources
Key urban drainage systems facilities and resources that the PWG offered are:
Green roof hydrological performance test beds
Surcharged manhole - surface interface test rig
Key people:
---
Example projects
The Hydrological Performance of Green Roofs
The main focus of the work is on understanding green roof hydrological performance, leading to the development of practical modelling tools to inform stormwater management practice. The work is a core component of the University of Sheffield's Green Roof Centre. Past and present researchers have included Hartini Kasmin, Gianni Vesuviano, Joerg Werdin, Fred Sonnenwald, Simon Poë and Simon De-Ville. For a complete project overview, please visit the dedicated website.
Flagship institutes
The University's four flagship institutes bring together our key strengths to tackle global issues, turning interdisciplinary and translational research into real-world solutions.