European and international students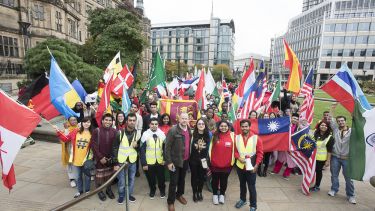 The Department of Philosophy warmly welcomes all international students.
Here are just a few reasons why Sheffield is a great place to study philosophy.
We offer a range of one year MA programs and a three year PhD program. So you can complete your studies more quickly (and so more cheaply) than in some other education systems.
In the most recent UK research excellence rankings, we were rated 2nd in the country for the quality of our published research.
It's quick, easy, and free to apply. There are no deadlines for your course application (only for scholarship applications).
We offer research expertise in a wide range of areas, including Ancient Greek philosophy, climate change policy, epistemology, feminist philosophy, German idealism, human rights, meta-ethics, metaphysics, phenomenology, philosophy of language, philosophy of law, philosophical logic, philosophy of psychology, philosophy of race, and political philosophy. See our staff pages for more information on our particular research interests, and our PGR student pages to see what some of our current PhD projects are.
Our department has a large friendly graduate community. This includes a large international contingent, with students from Australia, Brazil, Canada, Chile, China, Greece, Germany, Hungary, India, Iran, Ireland, Italy, Libya, Mexico, New Zealand, Nigeria, Pakistan, Romania, Switzerland, Spain, and the USA. Our graduates keep busy organising a wide variety of seminars, conferences, reading groups and other activities. The wider University of Sheffield is a highly-respected, research-led institution with a population of over 25,000 students including more than 6,500 international students from over 115 countries.
We have an excellent placement record for our postgraduate students, both in academic programs and posts, and outside of academia. We offer a range of activities and support for students entering the job market.
There is a wide range of scholarships available for international students, including country-specific scholarships - find out more information on the international office country pages. 
We offer paid opportunities to gain teaching experience, as well as formal teacher training.
Sheffield is home to several research centres and research projects, and also host to a variety of conferences and workshops each year. See our research pages for more information. 
There are lively International student societies in the philosophy department. They arrange regular events to welcome and support our international community. We are also home to the Sheffield chapter for MAP (Minorities and Philosophy). Plus the department is in general a sociable community, with regular events such as the reading weekend and Philosophy Rocks.
Sheffield is a great city, and also one of the best value places to live and study in the UK. Living costs are 10% lower than the UK national average and 25% lower than London.
---
International student societies
The Department of Philosophy is home to lively international student societies for both undergraduate and postgraduate students.
Undergraduate International Student Society
The aims of the society are:
To be a point of contact for international students and to help them meet others
To provide academic support
To give useful tips and advice about living in the UK
To organise social events and trips
We hope that this will enable international students to get the most out of their time at Sheffield, both academically and socially, by offering a range of support and contacts. The current organisers are Andreea Huidan (alhuidan1@sheffield.ac.uk) and Dario Trimarchi (dtrimarchi1@sheffield.ac.uk), and the staff contact is Bob Stern (r.stern@sheffield.ac.uk). Please contact them if you have any questions.
Postgraduate International Student Society
The International Postgraduate Students Society is a group of postgraduate students who know what it's like to be from another country and studying in Sheffield.  Our aim is to provide support and advice on integrating with the larger postgraduate community and making the most of the resources available to you in the department. 
We run coffee mornings and other social events to get to know all of you, so keep an eye out for our emails. Activities we've organised in the past include: welcome dinners, Christmas market visits, Christmas dinner, trips to the Peak District, and monthly socials such as meals and pub trips. 
Academic support:
We offer help with essay writing for students whose first language is not English.  Students read drafts and offer advice on language (and other things). We can also support with the follow on request:
Presentation skills workshops: If you have an important presentation coming up and feel the need to rehearse your talk, the members of the committee can organise a workshop where other students will listen to you and provide feedback, as well as advise you on how to handle questions, among other things.
Writing workshops: We can also help you improve your writing skills. During the workshops, international students can exchange drafts and offer each other advice on structure, language, etc.
Other support we can offer:
Getting settled in Sheffield;
Becoming acquainted with the department and the academic culture in the UK
Homesickness and culture shock.
Being an international student is not easy – but please remember that you are not alone. Members of the committee come from different parts of the world, so together we have a lot of experience dealing with a wide range of issues. The main aim of the society is the well being of the international students in the department, so if you ever come across some behaviour (from staff or students) that makes you feel uncomfortable, please let us know. We are here to help you.
---
Departmental Language Programme
The Philosophy Department, in collaboration with the Departmental Language Programme (from the English Language Teaching Centre (ELTC)), offers language and academic skills development opportunities for undergraduate, postgraduate taught or postgraduate research students. These can be course, tutorials of workshops. 
The ELTC tutor assigned to your department can help you further improve your language and writing skills within your subject area. For more information and to sign up, visit the DLP Website. Alternatively, contact the Philosophy Language Coordinator, Luca Barlassina, l.barlassina@sheffield.ac.uk or the Departmental Language Programme: dlp.eltc@sheffield.ac.uk.
---
Contact
If you'd like any more information, or have any questions, please contact us.
Director of Postgraduate Admissions and Postgraduate Funding Advisor: Rosanna Keefe, r.keefe@sheffield.ac.uk
If in doubt: phi-pgadmissions@sheffield.ac.uk
A world top-100 university
We're a world top-100 university renowned for the excellence, impact and distinctiveness of our research-led learning and teaching.