The most fundamental skill I gained from my degree is how to approach an unfamiliar problem
Senior Research Analyst, Exawatt
After his undergraduate degree, which included an internship at BP, Alex did a PhD in our department and is now a research analyst in the photovoltaic industry.
I currently work as a Senior Research Analyst for Exawatt, who are a consulting and market intelligence firm specialising in photovoltaic (PV) manufacturing and the associated supply chain. Exawatt maintains detailed historical data and forecast models for all aspects of PV production, and these models are supported by a detailed technical understanding of each manufacturing step.
During my undergraduate studies at the University of Sheffield, I undertook an internship at BP. The experience of being in a work environment was definitely useful for me, and I learnt that whilst I wanted to work in the energy sector, I wasn't keen to work in oil and gas.
---
It's brilliant to be able to take some of the analytical skills from my studies and put them to use in ways that are directly useful to the companies we work with.

Dr Alex Barrows

Senior Research Analyst for Exawatt
---
Whilst studying for my PhD and immediately afterwards, I worked part-time for a spin-off company from my research group (Ossila). Again, this helped me to understand the kind of environment in which I wanted to work – that I enjoyed being in an SME, and working as part of a small team.The experience I gained of liaising directly with customers on technical matters was highly beneficial too.
After completing my PhD, I took some time off to travel and to pursue my main interest outside of work and study – climbing. Whilst away I applied for a Research Analyst position at Exawatt, advertised through the Sheffield RISE program.
Technically I wasn't able to apply for the position, as I wasn't able to attend one of the assessment events due to being abroad. However, the role was very well suited to my background and interests (a PhD on novel materials for solar cells) so I emailed the company to enquire as to whether there might be a way around this.
In the end it all worked out, and my advice would be that if you think a job is right for you and that you're right for it then definitely explore all ways to apply, don't give up at the first hurdle!
Working for a small company provides me with the opportunity to get involved in almost every area of the business in a highly varied role.
On a typical day, I could be assisting in drafting proposals for new clients; maintaining and improving the company's databases and models; producing our standard quarterly market reports; providing bespoke reports and analysis to our largest and closest clients; or investigating new developments which could influence the solar industry – whether technological, financial or political.
The role involves a lot of hunting for information in company reports and financial filings, and then using this information in our models to both understand the current dynamics of the industry and to predict future trends.
My physics degree (MPhys) and PhD from the University of Sheffield provided me with a solid technical understanding of the physics involved in solar cell operation, as well as the manufacturing processes employed along the value chain, which is clearly important for my work. However, the most fundamental skill which I gained from my degree is the mind-set of how to approach an unfamiliar problem.
How to quickly break a complex question down to think about what information you might need to come up with an answer, what assumptions you might need to make, and how any answer might have knock-on effects elsewhere. It's brilliant to be able to take some of the analytical skills from my studies and put them to use in ways that are directly useful to the companies we work with.
I also get to learn new things all the time too – whether it's investigating a new technology, or developing my skills in how to interrogate a database, and I really value being in a position where most days involve trying to find out something new.
---
On our our MSc Solar Cell Technology course, we're training physical science and engineering graduates to develop new photovoltaic devices and test their effectiveness as a global energy resource: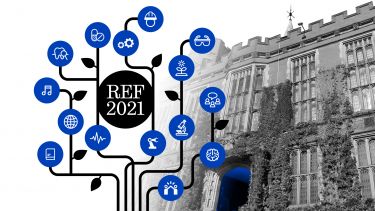 Research Excellence Framework 2021
We have been rated 1st in the UK in terms of the quality of our research. In the latest REF, 100 per cent of research and impact from our department has been classed as world-leading or internationally excellent.
Explore the University
Discover why Sheffield is the right choice for you at one of our open days or events.