The most appealing thing to me was the high student satisfaction rate
BSc Physics and Astrophysics
Kyle was attracted to Sheffield thanks to our high rates of student satisfaction. Now he's enjoying the range of astrophysics topics we cover on his degree programme.
What first attracted you to Sheffield?
The most appealing thing to me about Physics and Astrophysics at Sheffield was the high student satisfaction rate for the course. As well as this, it was pretty close to my home town and I really liked the city when I came to visit on my open day, and just like that, Sheffield ended up becoming my first choice University.
What are you enjoying most about your course?
One of the things I enjoy most about my course is the Astrophysics aspect of it. Unlike many other degrees that mix Physics WITH Astrophysics, the University of Sheffield offers a Physics AND Astrophysics degree, which helps to tailor the degree more to your interests as time passes. This ultimately gives you more options and choices with regards to Astrophysics options that you want to take as you ascend through each year of your studies.
---
[Many lecturers] have open-door policies and they're always happy to explain a concept in a one-on-one setting.

Kyle Young

Physics and Astrophysics BSc
---
My favourite modules have always been the Astrophysics ones. To name a few of the modules from each year that I particularly enjoyed the contents of, there's PHY106 (The Solar System), PHY111 (Our Evolving Universe), PHY216 (Galaxies), PHY229 (Extrasolar Planets and Astrobiology), PHY306 (Introduction to Cosmology) and finally PHY326 (Dark Matter and the Universe). All of these modules were incredibly interesting to me, and all had differing amounts of qualitative and quantitative information, which was a nice mix.
Something else I also particularly like regarding the department is how much the lecturers are willing to help. In first year, I was scared to ask questions when I didn't know the answer but the constant reminder from the lecturers that we could go and talk to them at basically any time was really reassuring. Many of them have open-door policies and they're always happy to explain a concept in a one-on-one setting if you struggled to understand during the lecture.
You get to know the lecturers in a greater level of detail than you would in most other departments, as the Physics department at Sheffield is medium-sized. You'll spend lots of time with academic tutors in the first and second years, and then project supervisors in your third and fourth years (as well as your personal tutor who you have throughout the duration of your degree, so there's always a point of contact nearby if necessary).
What are you enjoying most about University life and why?
I'm from a reasonably small town, so coming to Sheffield was a nice surprise. The location of the campus is such a bonus to students, as we're close to the main part of town as well as all of the nightclubs (if that's your thing). There's also many societies to get involved in which gives you something to do alongside your degree, whether you're interested in sports or performance, film or games, or baking!
In my opinion, societies are where you really get the opportunity to live that coveted 'University experience' and make some of those long-lasting friendships. I definitely recommend you look through the list of societies, then go to the 'Give It A Go' sessions and try out as many new things as you can!
The first year accommodation was also really nice. I feel like the halls experience is another integral part of University life, meeting new people and also having that independence for the first time. It's definitely helped me to become more independent and also allowed to meet my flatmates (new people outside of my course immediately) which helped me to stay social during the first portion of university when I didn't know people on my course all that well.
I also love the work opportunities that arise. Before I came to university, I'd never had a job before. However, the Students' Union, as well as the Physics department, have some ambassador/casual work roles available to help you expand your skillset, as well as your CV, and also earn some money alongside your studies. Some of the jobs even allow you to pick preferences for your shifts so if you're worried about managing your time alongside a job at University, don't stress too much!
Finally, what would you say to someone thinking about choosing your course at Sheffield?
Don't be afraid to ask questions. The lecturers aren't as scary as you might think and they do want you to pass. Remember to try your best to find the work-life balance that works best for you, and don't be afraid to ask lecturers or other current students for advice when it comes to picking modules for future years.
As you can imagine, there are many interesting modules on offer in the Physics department, but unfortunately you can't do them all! Most importantly, remember to have fun during your time at University and definitely take advantage of the close proximity of our department to the Students' Union if you ever need a quick coffee break!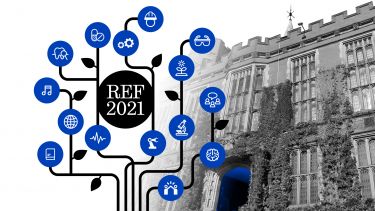 Research Excellence Framework 2021
We have been rated 1st in the UK in terms of the quality of our research. In the latest REF, 100 per cent of research and impact from our department has been classed as world-leading or internationally excellent.
Explore the University
Discover why Sheffield is the right choice for you at one of our open days or events.