Dr Helen Turton
Department of Politics and International Relations
Lecturer in International Politics and Security Studies
Director of UG Admissions and Recruitment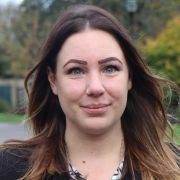 h.turton@sheffield.ac.uk
+44 114 222 1663
129, Elmfield Building
Full contact details
Dr Helen Turton
Department of Politics and International Relations
129
Elmfield Building
Northumberland Road
Sheffield
S10 2TU

Profile

Dr Helen Louise Turton joined the Department of Politics as a Lecturer in September 2015. She previously worked as a University Teacher at the University of Sheffield, and the University of Exeter. Dr Turton holds a PhD in International Relations from the University of Exeter, which was awarded in 2013.

Dr Turton's research interests lie in the intersection of the sociology of knowledge and security studies. Her work focuses on how knowledge is produced, embodied and practiced, specifically how knowledge of sexual violence is generated by academics and NGOs. Turton's work also centres on methodological innovation and in particular the use of co-production and artistic methods in social sciences.
Research interests

My research broadly focuses on issues pertaining to the sociology of knowledge. I look at how knowledge is produced, embodied and practiced by different actors and structures, with a particular focus on methodological innovation, the ethics of research and sexual violence in armed conflict. Overall, I look at the politics of knowledge production.

Current research:

The Long-Term Consequences of Sexual Violence in Armed Conflict

This project looks at how knowledge of sexual violence is generated by academics and NGOs, and how there is limited existing knowledge about the long-term consequences of sexual violence in conflict settings. This project maps the maps the multi-level and multi-layered consequences of conflict-related sexual violence. By addressing how such knowledge is generated, and developing co-productive methods of research to assess the individual and societal impacts, this project aims to discover what services should be available and what support is needed.

The Sociology of IR

My work in the sociology of IR explores the movement of ideas within the discipline, the identity and composition of different national IR communities, the dominant global trends within IR, and empirically investigates different sites of knowledge production and exchange to interrogate widely held assumptions in the field. The aim of this research is to reveal hidden hierarchies of knowledge by challenging the boundaries of the 'core' and 'periphery' in IR and though looking at exactly what academics do in practice as opposed to descriptions of academic activity.

Peace and Reconciliation in Colombia

This project seeks to explore the disjuncture between the formal Colombian Peace Agreement and the daily realities of life for individuals and communities in Colombia, to facilitate and amplify local expertise and agency in moving towards peace and reconciliation in those communities. This project is based on Participatory Action Research using participatory video and photo projects, as well as participatory focus groups. In particular I will assessing the Peace Accord's commitment to 'truth and justice for victims' of sexual violence.

Externally funded research projects:

Awarding Body: Newton RCUK-Colciencias Research Partnership
Title of Research: Improbable Dialogues: Participatory Research as a Strategy for Reconciliation
Principal Investigators: Simon Rushton and Jefferson Jaramillo (Pontificia Universidad Javeriana, Colombia)
Co-Investigators: Matthew Bishop (Politics, UoS), Jackie Harrison (Journalism, UoS), Jaime Hernandez-Garcia (Pontificia Universidad Javeriana, Colombia), Juan Miguel Kanai (Geography, UoS), Melanie Lombard (Urban Studies, UoS); Stefanie Pukallus (Journalism, UoS), Jose Manuel Salamanca (Pontificia Universidad Javeriana, Colombia), Fernando Sarmiento (CINEP, Colombia), Helen Turton (Politics, UoS), Juan Pablo Vera (Pontificia Universidad Javeriana, Colombia), Maria Zapata (Pontificia Universidad Javeriana, Colombia).
Duration: 24 months (2018-2020)
Total Award: £489,962
Publications

Books

Journal articles

Other
Research group

I am happy to supervise in areas related to critical approaches to IR theory, the sociology of IR, the sociology of knowledge and sexual violence in armed conflict. I am particularly keen to work with research students focusing on:

Non-Western IR theory
IR in different national/regional/global contexts
Theory/Praxis relationship
Politics of knowledge production
Sexual violence in armed conflict

I am currently supervising the following students:

Secondary supervisor to Shizhi Zhang - Chinese Agency in the Global Trade System: A Critique of Eurocentric IPE (with first supervisor Professor John Hobson)
Secondary supervisor to Rod Norton – Understanding Neoliberal Transformation: A critical realist exploration of the relationship between neoliberalism and the youth sector in England (with first supervisor Professor Jonathan Joseph)
Teaching activities

I employ teaching methods that encourage students to develop their independence of thought, and to challenge conventional wisdom while making students aware of their constitutive and agential roles in the realm of world politics. I am committed to thinking of innovative pedagogical practices, and I ensure that my teaching methods vary from seminar to seminar. I also make sure that each session is grounded or explored through different empirical sites. I believe the linking of theory to praxis to be incredibly important and instrumental for students at all levels. Not only does engagement with the 'real world' highlight the role of academic knowledge, it also encourages students to reflect on their own practices and agency.

I currently convene the following modules:

POL223 Contemporary International Relations Theory (L2)
POL3039 Dissertation in Politics (L3)
Professional activities

Board Member of the British International Studies Association 2015-present.
Sheffield Methods Institute Fellow 2016-present.