Politics and International Relations offer holder days
As part of your offer holder day at Sheffield, you'll be spending some quality time getting to know the Department of Politics and International Relations and your chosen course.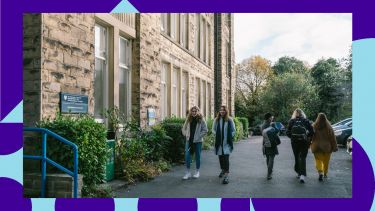 Off
You will have booked to visit us 10am to 12.30pm or 2pm to 4.30pm on your offer holder day. Please arrive in good time for the start of your booked session, as we'll need to scan the QR code from your booking to register you.
For 15 April 2023 bookings, your arrival location is: The Wave, on the corner of Northumberland Road. See the map below to help locate the building on campus. Your first activity will take place in The Wave in Lecture Theatre 2. 
There will be lots of open day staff and ambassadors around campus to assist you if you need help locating the building.
If you arrive late for your booked session, please report to the general information stand on the Students' Union concourse, where event staff will be able to help.
When booking, you'll be able to reserve a place for yourself and one guest at the department activities. To ensure safe venue capacities, the department will be unable to accommodate any additional unbooked visitors.
However, you're welcome to bring additional guests to accompany you on the day, and we would encourage these guests to take part in our range of central exhibitions and tours while the department activities are running.
---
You will have booked to visit the department between 10am to 12.30pm or 2pm to 4.30pm on your offer holder day. Here's what to expect from your time with us. Timings are approximate and are subject to change, and so we recommend checking back prior to the event.
Duration

Student activity

45 minutes

Welcome and course information talk

Dr Jon Gamu will provide you with more details about our course structures, modules, and extra-curricular opportunities we have to offer. Student ambassadors will also share their experiences during the course talk. 

45 minutes

Politics panel session

Various members of staff join us for a topical panel discussion, during which students and guests are invited to participate and ask questions. 

15 minutes

Alumni workshop

We will welcome back politics and international relations alumni who will be talking to us about their career path since graduating.

30 minutes

Offer holder Q&A session

A chance for offer holders to ask our student ambassadors any questions they have. 

30 minutes (runs concurrently with Offer holder Q&A)

Parents/supporters Q&A session

A Q&A session with academic staff and student ambassadors especially for parents and/or supporters. 
For the rest of the day, you'll have time to take part in the central tours and exhibitions detailed in our offer holder day guide.  
---
During each of our offer holder days, we will be running a politics panel session which will give you a real taste of the kinds of topics you'll be studying and discussions you'll be having in your seminars at Sheffield. 
Panel sessions will feature different staff members and a different topic at each one of our offer holder days. When you visit us, you can expect to participate in one of the following panel sessions:
Is there still a use for the House of Lords?
Do we still need International Women's Day?
Who is the world's leading economic power?
Food security - does the state have a responsibility to ensure people are fed?
Topics may be subject to change.
---
Please book your place on the offer holder day via the link in your invitation email.