Attending our offer holder day? Find the answers to your questions here.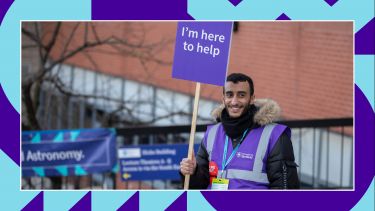 Off
Full details of the activities available at the offer holder day are provided in our offer holder day online guide and we've put together these FAQs to help you prepare and make the most of your day in Sheffield.
If you have any further questions or queries, get in touch by email using myday@sheffield.ac.uk.
How to book
Follow the link in your invitation email to book your place. 
What is an offer holder day?

Offer holder days are for prospective undergraduate students who are currently holding an offer to study at the University of Sheffield. You will get to see more of your chosen department, meet staff and students and learn more about your course.

How is this different from an open day that I attended before applying?

The offer holder day provides an opportunity to spend more quality time with your chosen department. Much more than just a course talk, many departments will offer taster lectures or seminars, extended Q&A sessions or panels with current students. Some departments may offer lab tours or demonstrations. There will be opportunities for 1:1 conversations with departmental staff and current students.

Student-led walking tours of the campus and city allow you to see these spaces through the eyes of a current student, while our central exhibition, accommodation tours, and library tours are available for anyone who may have missed these opportunities on a previous visit to Sheffield. See our online guide for further details.

How do I book my place on an offer holder day?

Follow the link in your invitation email to book your place. Remember to check spam folders and add us to your trusted contacts for email. Please get in touch if you haven't received an email to book a place on an offer holder day. Email us at myday@sheffield.ac.uk. 

Can I cancel my booking?

Yes! You can cancel your booking at any time via the link in your confirmation or reminder emails.

Who can I bring with me?

When booking, you'll be able to reserve a place for yourself and one guest at the department activities. To ensure safe venue capacities, the department will be unable to accommodate any additional unbooked visitors.

However, you're welcome to bring additional guests to accompany you on the day, and we would encourage these guests to take part in our range of central exhibitions and tours while the department activities are running.

What visitor opportunities are available on the day?

Full details of the activities available at the Offer holder day are provided in our online guide, and paper copies of this information will also be available to collect on the day. If you have any questions during the day, there will be lots of staff and student ambassadors available on our general information stand, information hubs, and spread around campus, to help you.

What will I be doing with my department?

Your invitation email will contain a link to the online itinerary for your department activities. These might typically include welcome talks, taster lectures or seminars, extended Q&A sessions, lab tours or other demonstrations, as well as time for informal conversations with department staff and current students.

What time does the day start and end?

Our offer holder days begin at 10am and finish at approximately 4.30pm. You will have booked to visit your chosen academic department(s) at 10am to 12.30pm or 2pm to 4.30pm. We ask that you attend your department activities at the time that you have booked, but all other activities are flexible and how you plan your day is up to you.

Can I see more than one academic department?

If you are holding an offer for a dual honours degree, or you are holding multiple offers across different departments, you have a number of different options for how to engage with your chosen departments:

Book to see both departments on the same day. Visit your first department in the morning (10am-12.30pm) and your second department in the afternoon (2pm-4.30pm). You will have limited time in between the department visits for central activities. Some department combinations may only be available on certain event dates, and may fill quickly, so we recommend booking as soon as possible to avoid disappointment.
Book to see departments on separate days.
Book to see one department at an offer holder day, and find out about your other subject at one of our online Sheffield Live events in the spring.

View our A-Z of dual honours courses to see which departments offer dual study opportunities for the 2023/24 academic year.

How do I get to Sheffield? 

Maps and travel information can be found here. Sheffield and the University have excellent public transport links, and we encourage visitors to take advantage of these wherever possible. The University has a tram stop, is a twenty-minute walk from Sheffield train station, and is well served by the local bus network.

Where can I park?

Car parking near campus is limited, and often reaches full capacity at our open days. We therefore strongly recommend those driving to consider one of Sheffield's several park and ride sites on the tram and train network, which link directly with the University's dedicated tram stop. 

From the M1, exit at Junction 33 for the Nunnery Square park-and-ride site, or Junction 34 for the Meadowhall Interchange park-and-ride site. From either site, take the yellow route tram towards Middlewood. 

If you're coming to Sheffield from the West (via the A628 or A61) then use the Middlewood park-and-ride site. Take the yellow route tram towards Meadowhall.

If park and ride arrangements are not suitable for your circumstances, the most convenient car parks for access to campus are the Q-park on Durham Road and the NCP at Solly Street.

I am a blue badge holder and will be travelling to the University by car. Where can I park?

We recommend using one of the 32 blue-badge parking spaces available in the Q Park at Durham Road. An additional 20 blue-badge parking spaces are available in the Q park at Rockingham Street.

What is the Sheffield Clean Air Zone?

From Monday 27 February 2023, a class C chargeable zone will come into effect for the most polluting heavy goods vehicles (HGVs), light goods vehicles (LGVs), vans, buses, coaches and taxis that drive within the inner ring road and city centre. Private cars and motorbikes will not be charged. For further details, please visit the Sheffield City Council webpages.

Do you have disabled access?

All our venues have disabled access. Please disclose any additional support requirements for yourself and any guests when prompted on the booking form. If you need any help on the day, our staff and student ambassadors are there to help. Our Disability and Dyslexia Support Service can also offer further advice on access to buildings, car parking and other facilities.

I am travelling to Sheffield by train. How do I get to the University from the station?

Sheffield Railway Station is situated approximately a mile and a half away from the University of Sheffield. It is advisable to catch either a tram or a bus to the campus. 

Trams run directly from the station to the University every 12 minutes. You need to catch the blue line heading towards Malin Bridge and get off at the University of Sheffield tram stop. The journey time is approximately nine minutes. 

The main University of Sheffield campus is easily accessible by public transport. From the transport interchange (opposite the station), a range of buses go to and from this area, including the 30, 120, 123, 51 and 52 and all pass by the University. 

Alternatively, a taxi from the station will cost around £5.

Can I get support with travel costs?

The Access+ Travel Bursary is available to eligible students for undergraduate open days, on-Campus subject tasters, offer holder days and interviews.

This bursary is available to support undergraduate applicants to the University of Sheffield. See here for further information.

Where should I go when I arrive?

As you enter campus, offer holders will be able to collect a welcome pack from our General Information stand outside the Jessop West Building, or from one of our Information Hubs tents. Welcome packs contain a tote bag, campus map, and printed event guide. You don't need to register on arrival, as attendance will be recorded at your pre-booked department activities.

Where should I go for my department activities?

This information will be provided in the online itinerary for your department activities, linked from your invitation email.  Please look out for this email, and check your spam folder if necessary. If you lose this information, please head to our General Information stand outside the Jessop West Building, where event staff will be able to assist you.

Where should I go if I'm late?

If you are running late for your department activities, please head to our General Information stand outside the Jessop West Building, where event staff will be able to assist you.

Where can we eat and drink on campus?

All offer holders will receive a £5 tear-off voucher  in their printed event guide, which can be spent in one of our catering outlets open across campus.

Are quiet spaces and prayer rooms available?

Dedicated quiet spaces and prayer room facilities are available in several key buildings on the day of the event. Please ask a member of staff for details.

What should I wear?

Our central campus is approximately one mile across, and so we recommend wearing comfortable footwear and suitable clothing including waterproofs in case of rain, as most visitors will be walking between different locations for talks, tours and other activities.

Are there places to stay overnight close to the University campus?

There are a number of hotels and B&Bs in Sheffield. Visit the Welcome to Sheffield website for more information.

What is the University doing to keep the community safe from Covid-19?

You can read more information about on our web page: Coronavirus: how we're keeping our community safe.