Catch up: Religion, atheism, and the varieties of the good life – John Gray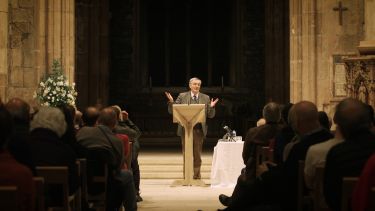 About the talk
It is often claimed that atheists can be as moral as practitioners of traditional religions, and this may well be true.
However, John Gray suggests that atheists have been promoting a wide variety of conceptions of the good life.
Examining the history of atheism, he argues that atheism has not been a single intellectual movement, but rather a diversity of contending sects adhering to divergent – often even conflicting – values and advancing different ways of life. The question is therefore not whether atheists can be moral, but: which morality should atheists follow?
The talk was part of the God and the Good: Thinking Religion and Ethics lecture series.
Watch the lecture
Interviews
 About our speaker
John Gray studied Philosophy, Politics, and Economics at Oxford. In 1998, after having held – among other things – a visiting professorship at Harvard and a professorship in politics at Oxford, he became Professor of European Thought at the London School of Economics, where he is now Emeritus Professor. Among his recent publications are:
Seven Types of Atheism (2018)
The Soul of the Marionette: A Short Inquiry into Human Freedom (2015)
The Silence of Animals: Thoughts on Progress and other Modern Myths (2013)
Gray's Anatomy: Selected Writings (2009)
He contributes regularly to The Guardian, The Times Literary Supplement, and the New Statesman, where he is the lead book reviewer.
John Gray is a regular guest on radio and television and was one of the main contributors to the ARTE documentary Marx Reloaded, alongside Jacques Rancière, Peter Sloterdijk, and Slavoj Žižek.
Get in touch
Prokhorov Centre
University of Sheffield
School of Languages and Cultures
Jessop West Building
1 Upper Hanover Street
Sheffield S3 7RA