Changing support practises for adults with experience of childhood trauma
*Trigger warning: this article includes content relating to childhood sexual abuse*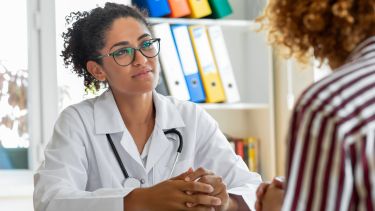 According to the NSPCC, around 1 in 20 children in the UK have been sexually abused. 
But many cases of child abuse remain hidden. The National Association for People Abused in Childhood (NAPAC) found that around one in seven adults who called their helpline had not told anyone about their experience of childhood sexual abuse (CSA) before.
Treatment for adults with experience of CSA often comes in the form of counselling. While many research studies have evaluated the impact of these treatments on the individual, there is little research on how individuals cope with the long-term recovery process.
Research led by Dr Claire Cunnington, a research associate from the Department of Sociological studies, focuses on the recovery process of adults with experience of CSA, and their experiences of seeking professional support. Her work is at the centre of a co-produced film that is supporting health professionals around the globe.
A focus on recovering
The majority of research conducted on CSA places attention on the abuse experienced by the individual. Funded by the Wellcome Trust, Claire's initial PhD research shifted the focus to elements that individuals found helpful or hindered their recovery.
"I designed the survey to be trauma aware to avoid causing any harm or distress to anybody filling it out. None of the questions asked for the participant to go into any details about the abuse. Each page had a warning about the context of the following questions that allowed people to skip any that they didn't want to answer and although none of the questions were compulsory, we still had a high response rate" explains Claire.
In total, 140 people answered the survey and 21 of those people took part in follow up interviews.
The research found that nearly half of participants found exercise and movement helped with recovery, often in the form of sport, yoga, walking and dance. Nearly three quarters of participants found creative activities such as art, gardening, design and gaming also helped with the recovery process. 
Generally, many found that good trauma-informed counselling had helped in the long term, but that supportive and safe relationships amongst family, friends and professionals were important.
"A key element to recovering was reaching a state of flow. The flow state occurs when we're doing something that we love to the extent that we become absorbed and time passes quickly. For some, this might be achievable through meditation but often it's through other hobbies and passions such as climbing, talking to friends and gardening" explains Claire.
"It's a state of absorption and happiness that provides a way to create safe, happy little moments for yourself and help you trust the world again. The more of those you get, the more you trust the world" she adds.
Seeking help
An important element of the recovery process is disclosure; the act of informing others about the experience of a traumatic event. The response of the listener always influences the willingness to disclose and a negative response can have a detrimental impact on the individual trying to access support through a service.
"My research found that one of the elements that really hindered recovering from CSA was poor responses from health professionals either in the form of being shut down, denied, ignored or minimised. I was surprised at how many times this was mentioned. I understand that the practitioners weren't necessarily doing anything wrong on purpose, and I don't want to blame them, but I knew that something had to be done to change this" explains Claire.
Her research into the long term recovery process, and the impact of harmful responses to disclosure, is at the centre of a co-produced film that is supporting health professionals across the globe.
A key finding from the research was the impact of receiving a negative response from health professionals. 
"I read some examples of quite negative responses from GPs and it became clear that this was a key issue to tackle. We wanted to make a film that would help professionals empathise and really understand why it is so difficult for a person with experience of CSA to reach out and talk about it, as well as highlighting how such a poor response can impact someone directly" says Claire.
---
The GP said 'it was a long time ago so I should get over it'

A participant response
---
Claire's doctoral research contributed to the final report of the All Party Parliamentary Group for Adults Survivor of Childhood Sexual Abuse.
Flow: the film
Claire received funding from the University of Sheffield's quality-related (QR) fund by Research England to create a film to help inform healthcare professionals.
With a focus on collaboration, Claire led a steering group in which over half of the participants had experienced CSA. The participants were given vouchers for their time on the project. 
The group also had representatives from Health & Justice, Armed Forces, Sexual Assault Referral Centres (SARCs, a department/section of NHS England) and the Department of Health.
Alongside producer Inner Eye Productions, the group collaborated on the film's script, locations and cast.
"It was important for us to involve different perspectives about the experience of disclosing CSA to a professional. We wanted to make the film as accurate as possible and have it checked by users and GP professionals. The film doesn't tell one person's story, it tells all of ours" explains Claire.
The film follows the lead character Amy who is preparing for her art exhibition when a comment reignites traumatic childhood memories. She wants help but struggles with family loyalty. This film, inspired by interviews from Claire's research, employs the power of storytelling to spark debate about how we, as a society, hinder the disclosure of childhood sexual abuse.
This film contains adult themes including the disclosure of CSA but does not contain any scenes of abuse. 
A global impact
Following the film's launch at the University of Sheffield's Festival of the Mind in September 2021, the project has received interest from health professionals and organisations around the world.
The launch of the film led to a webinar for the International Society for the Prevention of Child Abuse and Neglect (ISPCAN) which received 400 sign ups across the globe.
The film has received enquiries from UNICEF, JaSPCAN(Japanese Society for the prevention of Child Abuse and Neglect), Talk Hong Kong and the International Centre for Missing and Exploited Children (ICMEC) amongst others to use the film in their work.
The film has also been nominated for Best film for the Birmingham International Film festival and has been invited to submit to The Health for All Film Festival run by the World Health Organization.
Looking ahead, Claire is working to incorporate the film into GP trauma informed care training in the NHS.
'There are currently no National Institute for Health and Care Excellence (NICE) guidelines in place for when an adult discloses CSA to a health professional. I'm currently working towards raising awarness of the lack of standard guidelines in place to support professionals and adults needing this treatment and support' explains Claire.
Written by Alina Moore, Research Communications Coordinator
Support information
If you've been affected by any of the issues in this article, please contact your GP or the following organisations:
NAPAC
If you want to talk about what you experienced in childhood and how it is affecting you now.
Call: 0808 801 0331
RAPE CRISIS
If you have experienced rape, sexual assault, sexual abuse or any type of sexual violence – or you're not sure.
Call: 0808 802 9999
SURVIVORS TRUST
If you are over 16 and a survivor of rape or sexual abuse and violence.
Call: 0808 801 0818
MALE SURVIVORS PARTNERSHIP
A network of organisations working with male victims/survivors of sexual abuse, rape and sexual exploitation
Call: 0808 800 5005
Flagship institutes
The University's four flagship institutes bring together our key strengths to tackle global issues, turning interdisciplinary and translational research into real-world solutions.