A cost-effective therapy to reduce NHS waiting times
*Trigger warning: this article includes content relating to eating disorders*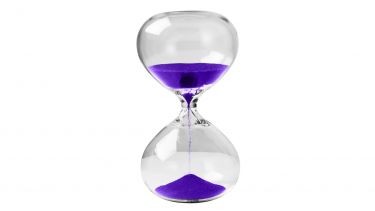 Off
According to BEAT, one of the UK's leading eating disorder charities, approximately 1,250,000 UK individuals suffer from an eating disorder at any one time. But with clinicians prioritising high risk patients living with Anorexia Nervosa, non-high risk individuals join long waiting lists to access drawn-out therapy sessions with mixed success rates.
New research led by Glenn Waller, Professor of Clinical Psychology at the Department of Psychology at the University of Sheffield has developed CBT-T, a protocol for delivering cognitive behavioural therapy (CBT). The 'T' stands for ten sessions - half the length of existing recommended therapies. CBT-T trials have received highly positive reviews from participants, creating a compassionate, economically-viable and effective approach to support patients with eating disorders.
"It's important to note that this treatment is not designed for everyone" explains Glenn. "However, it's been developed to support around 85% of people living with an eating disorder. The remaining 15% are those most urgently in need and require a different method of treatment." 
Sheffield's research into CBT-T is now being implemented in NHS training with a national curriculum and competence framework, enabling clinicians to help users gain more benefit from therapies in a shorter period of time. To date, this research has increased access to therapies for patients and directly impacted healthcare policy and clinical practice.
Current treatment
Cognitive behavioural therapy (CBT) is a form of psychological treatment. It involves talking through how thoughts, physical sensations and actions are interconnected and how changing behaviours can help the person to overcome these fears and thoughts. According to the NHS, in addition to treating anxiety and depression related conditions, CBT is the most effective therapy for adults with eating disorders.
Currently, clinicians use Cognitive Behavioural Therapies for Eating Disorders (CBT-ED). However, the recommendation for non-underweight patients is between 16 and 20 sessions, which in practice can rise to over 40 sessions for patients with bulimia. These practices are lengthy and expensive and add to the long waiting lists for those who need support.
Research carried out at the University of Sheffield also shows that the delivery of these sessions varies depending on the clinician, highly impacting the success of the sessions. 
Certain characteristics such as clinicians' anxiety of certain topics about pressing for behaviour change and dislike of some modules create 'clinicians drift' that can directly impair the outcomes of the therapy. Reduced success rates of the therapy mean that some patients wait long times to be seen and are at risk of requiring repeated support in the future.
CBT-ED is well established as an effective therapy in clinical settings. But what if its delivery could be improved without additional costs to the NHS?
A ten session approach
Research led by the University of Sheffield has developed CBT-T; an effective therapy that takes half the time of a CBT-ED therapy. By removing elements of the CBT-ED therapy that don't have a positive evidence base, the CBT-T compresses twenty sessions into ten sessions while improving its delivery. 
Professor Glenn Waller led a collaborative team to produce the CBT-T protocol. The team involved: Hannah M. Turner, Consultant Clinical Psychologist at the Southern Health NHS Foundation Trust Eating Disorders Service, Madeleine Tatham, a Consultant Clinical Psychologist at the Norfolk Community Eating Disorders Service, Victoria A. Mountford, Principal Clinical Psychologist at the Eating Disorder Service, and Tracey D. Wade, Matthew Flinders Distinguished Professor of Psychology at Flinders University, Australia. 
"CBT-T is a flexible protocol, which fits the patient rather than making the patient fit to the therapy. It has been developed to help clinicians to treat people in less time, shorten waiting lists, and see patients more quickly when they need help" explains Professor Glenn Waller.
CBT-T has been researched in several sites. A key study compared the first CBT-T trial compared two sample groups: one group with 138 people was treated with CBT-ED (20 sessions) and one group with 55 people doing CBT-T (10 sessions), both had supervision. Keeping patient satisfaction at the heart of the method, the trial focused on assessing the life quality of patients before, during and after all sessions, as well as measuring eating problems, anxiety and depression.
During CBT-ED, patient life quality and symptoms followed a pattern of improving throughout treatment and staying down after the 20 sessions have been completed. The CBT-T trial mirrored the same pattern, proving the cost-effective method can have the same success for patients in half the time.
---
It's hard to put any difference between the results of the two therapies, even though one is half the length of the other.

Professor Glenn Waller

Professor of Clinical Psychology at the Department of Psychology
---
Training practitioners
The team spent four years gathering and preparing evidence of the CBT-T approach before producing a manual to enable wide implementation across the globe.
Developed for use by clinical psychologists, psychiatrists and other professionals working with eating disorders, the green book titled 'Brief Cognitive Behavioural Therapy for Non-Underweight Patients: CBT-T for Eating Disorders' provides thorough guidance and evidence behind the CBT-T approach. The book has sold over two thousand copies so far.
The manual is accompanied by a website that provides research-based clinical material for clinician and patient use, as well as training videos to improve the delivery of CBT-T. To date, it has been used across 35 UK NHS trusts and internationally (USA, Canada, Australia, New Zealand, Ukraine, Norway, Sweden, Netherlands, Mexico, Iceland, Ireland, Italy and Russia). 
This research originated with a recommendation for briefer therapies for eating disorders, made by the National Institute for Health and Care Excellence (NICE), and is intended to feed into the next iteration of those guidelines, influencing national commissioning of treatments for these individuals. It has already informed national and international guidelines and policy regarding best practice in treating eating disorders.
The NHS has established a national training programme for CBT-ED and CBT-T, based on Sheffield's research and policy recommendations. NHS England (NHS Improvement and Health Education England) has provided £7 million funding for national training for eating disorders. 
This programme started in November 2020 and will deliver the training of 300-400 clinicians in CBT-T, and associated training for 160 clinical supervisors.
Influencing policies
Sheffield's research continues to be used in trials across the globe, with positive outcomes of seeing a greater number of people and reducing waiting times substantially without compromising on quality of care and recovery rates.
The CBT-T method has been cited as having improved practice in NHS Trust policies due to a reduction in waiting list and accessible information provided for patients and carers, even when delivered by less experienced therapists. 
The 2018 NICE quality guidelines recommended the use of CBT-T as an approach for supporting eating disorders.
The Academy for Eating Disorders (2020) has summarised international guidelines on eating
disorder therapies. It is designed to inform clinicians anywhere in the world of the best psychological therapies for eating disorders. The guide mentions Sheffield research as an example of effective brief therapies as a means to enable wider access to therapy.
Professor Glenn Waller continues to deliver detailed CBT-T training to therapists across the world while collecting positive data from trials in many countries. 
"We have developed evidence of the effectiveness of CBT-T in the UK and Australia ourselves, but more importantly we are receiving evidence from independent studies across the world. We will keep sharing this protocol widely to gather more evidence that will be presented to NICE and encourage more countries to adapt this approach. These recommendations can take years to develop but will support the implementation of CBT-T more widely" explains Professor Glenn Waller.
Written by Alina Moore, Research Communications Coordinator 
Flagship institutes
The University's four flagship institutes bring together our key strengths to tackle global issues, turning interdisciplinary and translational research into real-world solutions.