Giving voice to the migrant community of Samos
Forgotten by the rest of Europe, Samos is a Greek island facing a humanitarian crisis. Dr Anna Gordon led a collaborative project that used data to amplify the conditions of the migrant camp and lobby for improvements.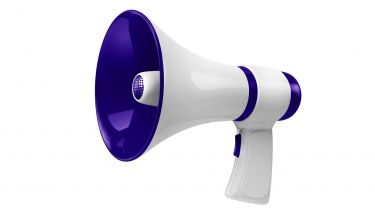 Off
Samos is a picturesque Greek island located 1.6km off the coast of Turkey. The impressive mountainous landscape is studded with pine forests and surrounded by white-sanded beaches and the turquoise east Aegean sea. Tourists from all over the world flock to enjoy the island sun loungers on the shoreline and local agriculture of fruit and olives.
The island's economy relies on a steady stream of tourists to support local businesses. But in recent years, the island has been at the centre of a humanitarian crisis.
In a hillside adjacent to Vathy, the capital of Samos, is a disused military base amongst pine trees that now serves as a refugee camp. 
Hidden out of sight of tourists, the camp was originally designed to accommodate six hundred people. At one point almost five thousand men, women and children lived there, with most sleeping in tents and homemade shacks. The overcrowded conditions led to many settling outside the barbed fence, in an area known as the Jungle, which stretches around the outskirts of the camp.
Located on the European border, Greece was on the front line of Europe's migration crisis when a million refugees arrived between 2015 and 2016, mainly via Turkey. Camp settings are often the only places where internally displaced persons and refugees can seek protection and support. Over the years, migrants have continued to make the treacherous journey to the island at a rate similar to that of the 2015 crisis, yet despite the severe overcrowding of the camp few changes have been made to support those seeking refuge. 
Overcrowding has led to a lack of necessary provisions such as accommodation, sanitation and nutrition. With the Greek National Health Service struggling as a result of the economic crisis, the health needs of both the local population and migrants have been repeatedly left unmet, which has increased hostility between them. 
Visiting the camp for the first time
In summer 2019 Dr Anna Gordon, then a 4th-year medical student at the University of Sheffield arrived to work in the camp in Samos as a volunteer medic. Having previously worked with asylum seekers and refugees in the UK, Anna was eager to use her knowledge to support migrants and help provide essential health services in the camp. 
While volunteering at the clinic, Anna co-produced a study that would highlight the issues of the camp and give a voice to those residing there. Anna would see the impact of her study in the following winter, and even more so in summer 2020.
Anna worked closely with nurses and interpreters to consult the endless stream of patients that came through their doors. The interpreters were also migrants that lived in the camp and had a crucial understanding of the challenges that faced the migrant population in Samos.
"For a lot of the time, the advice I was able to give to patients was typical to what I would give to a patient in the UK such as providing medication. But the interpreters I worked with were incredibly resourceful and always offered innovative solutions to problems. They would tell patients where to find bin bags and how to use them to kill insects in infested belongings. It was amazing. I would never have thought of something like that." says Dr Anna Gordon.
After spending three months in the camp, Anna saw that poor camp management and organisation was one of the key factors to the development of the majority of the health issues.
Everything I saw was directly as a result of the living conditions in the camp and not really anything to do with the fact these people were refugees.

Dr Anna Gordon
The poor conditions of the hillside camp meant that the overcrowded migrant population lived without proper sanitation, toilets and showers. Anna began to research the legal standard for refugee camps and found that the migrant camp in Samos did not meet any of the minimum international standards.
Anna was unable to find any data that quantified how people were actually living in these camps. Without data, she knew that she would struggle to reach out to organisations and elevate it to a state of emergency. Who would be held accountable for the lives of the people living in these conditions?
The survey
Anna worked closely with a team of interpreters to design a survey that supported the community in finding its voice.
Through a collaborative approach, Anna invited members of the migrant community to join together to discuss their priorities and decide on questions that would be important, and appropriate, to ask.
"We wanted to run a survey that empowered people within the camp to speak out about their own experiences. It's important to integrate the priorities of vulnerable groups of people and hear their perspectives, rather than coming in with your own agenda. The interpreters and others helped us be able to ask the questions with the right nuance. Without them, I wouldn't have known how to phrase questions differently for Arab, Farsi, or French speaking populations appropriately." says Dr Anna Gordon
Questions on the survey fell into four broad categories: demographics, living conditions (including food and sanitation), safety and vulnerability, and health. Surveys were handed out in the health centre's waiting rooms and across the camp, with interpreters emphasising that there was no obligation to answer all, or any, of the questions.
Yet, participants wanted to express their views; the lowest answer rate in any question was 80%.
"Seeing the community's enthusiasm for filling out the surveys was incredibly moving. They were so enthused and keen to have been given a chance to finally talk about their experiences and the conditions they were living in. They were given a voice and a platform. Almost all of the questions in the survey had yes and no options for answers, but people still wrote additional notes in the margin. Sometimes they said thank you, sometimes they drew pictures." recalls Dr Anna Gordon.
The results
A total of 500 people completed the study. Back in the UK, Anna analysed the results while keeping in contact with the interpreters, now her close friends, who were still in Samos.
The findings of the survey stressed the extent of the humanitarian crisis in the camp.
Ninety-six percent of participants had witnessed rats, snakes or other pests in their dwellings, and eighty-nine percent had insect infestations.
Sixty-three percent of participants had no access to 15 litres of daily clean water, the minimum standard for drinking and domestic hygiene.
Less than half of the participants ate three or more meals per day, while twenty-seven percent ate just one per day. Many, including children, were malnourished.
Most of the participants had witnessed others defecating in the open, a key risk factor for the spread of diseases.
Sixty-seven percent of participants had witnessed violence in the area, and eighty percent did not feel safe in their dwellings at night. Women, including pregnant women, faced particular safety concerns.
Almost all participants had experienced psychological distress while residing in the camp.
Anna analysed this data with supervisors Dr Caroline Mitchell and Dr Julie Balen from the University of Sheffield and presented the findings to local and national charities and organisations working on the island. Better awareness of the real issues in the camp, and detailed information about groups worst affected helped to inform solutions to make vital improvements. 
These included national organisations installing better lit toilet facilities with locks, women's charities providing whistles and self-defence classes, an organisation built safe, wider roads through the camp and installed more taps, and new clinics opened specifically providing midwifery services and mental health support.
"I came back in the following December (2020) and although it was cold and dark compared to the summer, people already looked a lot better. Due to the pandemic, I wasn't able to enter the camp itself but the people I worked with told me that the camp was so different. There were showers and toilets that had been installed. Everything looked a lot cleaner and there was less violence." says Dr Anna Gordon.
Anna continues to work with refugees in the UK and uses their perspectives and priorities to lead further research.
"We need to think about how we meet the health needs of refugees because their population is only going to increase over generations. There have never been more refugees and displaced people in the world than there are today. How best can we create sustainable camps that allow refugees to grow and contribute and have a sense of place and purpose?" explains Dr Anna Gordon.
At her (online) graduation in January 2021, Anna was awarded the Chancellor's medal in recognition of her outstanding work in lobbying for improved conditions during a pandemic. She hopes to inspire other students that it is never too early to make a difference.
I was very blessed to have supervisors who never put that limitation on me or my work. I'd like other students to know that just because you're still studying, it doesn't mean that you can't make a difference. If you work on something that you really care about, you'll be amazed at how much of a voice you already have.

Dr Anna Gordon
Written by Alina Moore, Research Communications Coordinator
Flagship institutes
The University's four flagship institutes bring together our key strengths to tackle global issues, turning interdisciplinary and translational research into real-world solutions.