A narrative approach to mental health
For centuries, storytelling has been used as a tool to communicate ideas and understanding about the world. Research at the University of Sheffield has adapted this tool to give those living with mental health illness a voice and a community.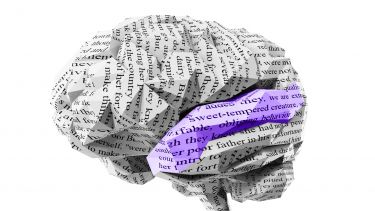 Professor Brendan Stone, Professor of Social Engagement and the Humanities, has centred the relationship between narrative, identity and mental health to put the patient's voice at the heart of support services, influencing the development of mental health policy at regional, national, and international levels. By improving the communication of the experience of living with mental illness, his work continues to increase public understanding and combat social stigma.
Understanding mental health
Brendan was diagnosed with mental health problems at the age of 14 which disrupted his education and much of the next 25 years of his life. But in his mid-thirties, education gave him a new sense of fulfillment. An access course at the University of Sheffield's Department for Lifelong Learning led him to a degree and then a PhD.
I've run lots of projects where people have come together and learnt together. That solidarity and camaraderie has been very important to people.

Professor Brendan Stone

The University of Sheffield School of English
Creating a community
As a founding director of the mental health charity, Sheffield Flourish, and a non-executive director of the Sheffield NHS Mental Health Trust (SHSC) where he leads for the Board on service-user engagement and experience, and having led and contributed to many initiatives which support people living with mental illness to make new social connections and develop their interests, Brendan has a lot of expertise in supporting those with mental health problems.
Brendan led in developing SHSC's service-user engagement approach and from consultations with hundreds of service users produced a 5-year strategy for engaging patients with conditions including mental illness, learning disabilities, substance abuse, and neurological disorders, which involved service users in staff-training and all levels of decision-making
Brendan's work with Sheffield Flourish involves partnership with many organisations in order to empower individuals to build the lives they wish to lead. Sheffield Flourish works to create peer support movements defined by solidarity, friendship, and hope, and has worked extensively with the NHS to develop more authentic co-production in the planning and delivery of mental health services, especially involving individuals and communities which have historically been marginalised and unheard. On behalf of Sheffield City Council, Flourish runs the Sheffield Mental Health Guide which provides comprehensive and updated information and advice, and also Sheffield Suicide Support - where people who are suicidal can search for appropriate help and support.
Influencing global health policy
Brendan's impact on NHS practice and policy extends beyond Sheffield. As co-chair of NHS England's Reducing Restraint Strategic Oversight Group [RRSOG], he promoted user-voice and experience. Brendan has presented RRSOG's work in Finland and was an invited participant at the inaugural Global Ministerial Mental Health Summit: the first meeting of government ministers and clinical leaders from across the world to develop policy and practice. Stone's inputs to the subsequent declaration (signed by all 61 countries present) concerned the need to involve people with experience of mental illness and the importance of interventions being locally appropriate.
Supporting medical professionals
Brendan has also developed masterclasses for medical students and professionals, working with service-users and using narrative to deepen understanding of living with mental illness. Representative feedback: 'I have learned more about "handling" mental health problems here than anywhere else'; 'I have rediscovered what it means to be a good doctor who listens to his patients'. Service-users involved also benefitted: 'it helped me process what has happened with my mental health and experience of health care'; 'it's given me faith in medicine'. A film of these masterclasses was runner-up in the UK's Haelo Film Awards for public sector films.
Brendan's work with SHSC led Health Education England to commission him to produce narrative work for Fairhealth: a set of resources to help health professionals 'better understand their patients' lives, improve their outcomes, and reduce the health gap [between rich and poor]'. Fairhealth won a 2019 Training Journal Gold award for the best Inclusivity and Diversity Programme. These on-line resources are used for training doctors internationally (e.g. University of Western Sydney) and in the UK (e.g. Sheffield's 'Deep End' programme, providing professional development for nine GP practices caring for 63K+ patients in areas of significant multiple deprivation).
Recently Brendan has led in the acquisition for the University Library of the Champernowne Archive. Irene Champernowne was a renowned British psychoanalyst, whose influence and leadership in innovative approaches to art and therapy has been seminal in the development of British Art Therapy. The archive includes many very valuable resources which illuminate the history of our understanding of mental health and illness. An Exhibition of the Archive will be staged at the University in 2023.
Written by Alicia Shephard
Updated by Alina Moore, Research Communications Coordinator
---
Funders 
NHS
Higher Education Funding Council for England
Flagship institutes
The University's four flagship institutes bring together our key strengths to tackle global issues, turning interdisciplinary and translational research into real-world solutions.