Reshaping our understanding of British history
We've opened up a new perspective on women's impact on foreign policy between the wars.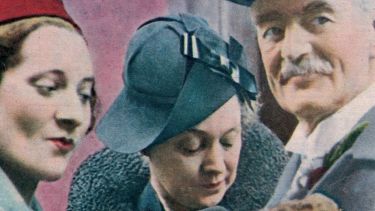 Department of History reader in modern history Dr Gottlieb's research into women's role in international politics offers an insight into the influence women had on some of the most important foreign policy debates during the interwar period.
Dr Gottlieb's historical perspective sheds light on the multi-faceted relationship between women and politics - from peace activism to appeasement to right-wing extremism - in the aftermath of suffrage. This work has provided an opportunity to examine and, where appropriate, celebrate women who have been sidelined in political history.
Her research has also had significant cultural impact in its engagement with the public, helping people understand their own histories. She said: "I have addressed school children, community groups, and charities, recovering stories of women's political activism, both fascist and anti-fascist, and connecting these groups with their family, community, or political pasts."
Dr Gottlieb said: "A number of descendants, children, grandchildren and great grandchildren of women in my research about British fascist politics got in touch with me when they discovered the political past of their mother/grandmother/great-grandmother."
"This research is making a cultural impact in terms of the understanding of, and the coming to terms with often uncomfortable and traumatic family memories," said Dr Gottlieb.
Dr Gottlieb has shown how women played a much more influential role in terms of national and global politics than historians to date have realised.
So illuminating is Dr Gottlieb's work that she was the expert on the BBC documentary, My Mother was a Blackshirt, which tells the stories of a number of women who joined the movement in the 1930s.
Dr Gottlieb also explores this complex relationship between women and politics in her book, Guilty Women' Foreign Policy and Appeasement in Inter-War Britain, which takes its name from the 1941 publication of the same name by Richard Baxter.
Baxter's book was a sequel to Guilty Men (1940), the highly influential indictment of the appeasers. Baxter's Guilty Women, on the other hand, was an indictment of women, whom he claimed were undermining the war effort.
Dr Gottlieb said: "My research tells the story of how that half of the population - by default of their sex - was excluded from formal diplomacy. Many women exercised power behind the throne, as femme fatales and go-betweens but others worked in more official capacities as the first generation of women MPs and activists in international politics at the League of Nations, or through transnational feminist networks."
Dr Gottlieb has shown how women played a much more influential role in terms of national and global politics than historians to date have realised.
"British women were far more motivated and engaged in international and transnational politics and in resistance to fascism than the male-oriented narrative has allowed. My research brings into convergence two questions about inter-war Britain: what happened after the vote was won by women in 1918 (and 1928), and why did Britain follow the course that it did in foreign policy, the policy of appeasement?"
Dr Gottlieb's research has inspired various genealogical studies and further deposits to the University's archive and its Special Collections.