Safely reducing trips to A&E
Research from the Faculty of Medicine, Dentistry and Health has shown that paramedics with extended skills can leave older patients safely at home with potential cost savings to the NHS of over £50 million, reducing unnecessary journeys to the hospital.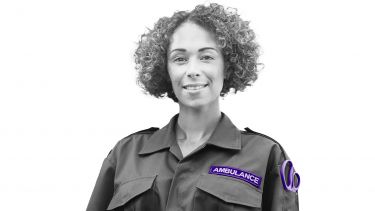 A paramedic is the first to arrive on a scene when a patient needs help. But rather than taking all patients directly to the emergency department, what if they were able to stabilise the patient safely in the comfort of their own home?
Led by Suzanne Mason, Professor of Emergency Medicine, Sheffield researchers evaluated the ability of a new professional role, Advanced Paramedic Practitioners (APPs), to reduce pressure on this emergency healthcare system without compromising patient outcomes. 
Following a pilot in the South Yorkshire Ambulance Service, the School of Health and Related Research (ScHARR) was instrumental in assisting with the training and education of APPs before opening the role to services across the country. Between 2003 and 2013, Sheffield conducted thorough research, focusing on the impact of integrating APPs into the emergency healthcare system, particularly in relation to patient outcomes.
The research by ScHARR has paved the way for the increasing importance of APPs in healthcare settings. These Sheffield-based studies have resulted in substantial changes to national and international guidance, policy, and practice in relation to the emergency care workforce.
New paramedic roles
Paramedics are the first to identify if there are any clinical risks to patients. Their roles primarily include assessing, treating and referring patients according to the nature and severity of their conditions. Traditionally, paramedics would stabilise a patient at the scene before taking the patient to hospital to receive definitive care.
Advanced Paramedic Practitioners (APPs), also known as Emergency Care Practitioners (ECPs), are healthcare workers, such as paramedics or nurses, who have undergone additional training to act as autonomous practitioners. The training provides an individual with the skills and confidence required to treat and discharge a patient at the scene, rather than taking them to A&E. 
The purpose of the role is to improve the patient experience and journey by either discharging patients at the scene or referring them onward to the most appropriate service. By providing an immediate diagnosis, assessment, and often treatment, APPs reduce crowding in emergency care settings such as ambulances and urgent care centres. 
"Many paramedics trained to become APPs to offer solutions to problems in the emergency healthcare system such as queues and crowding For many, it also played a key part in career development by opening up new career pathways outside of a typical ambulance service setting. It also provided many with the opportunity to go back into education" explains Colin O'Keeffe, Research Fellow at the School of Health and Related Research.
Prioritising older patient care
Between 2002 and 2005 a randomised trial (funded by the Health Foundation) was undertaken to determine the impact of APPs on the care of older people with minor illness or injuries who called 999 for help.
Researchers evaluated the role of APPs by assessing the management of acute illness and injuries in older patients. 
In the trial of 3,018 patients, APPs significantly reduced patient transfers to the Emergency Department by 24.9% and hospital admissions by 6.1% when compared with usual care. 
The service presented a cost saving of £150 per patient and operated safely, with very high levels of satisfaction for patients.
"The idea for trialling the impact of APPs on the care of the elderly came from consultants who worked in the Sheffield Emergency Department. They had noticed an increasing number of older people coming into the department over the years who didn't really require emergency care. The trial results showed that APPs were able to offer timely support for these problems, as well as the social element, in the comfort of the patient's home, rather than bringing them to wait uncomfortably in the Emergency Department" says Colin O'Keeffe.
Simplifying patient care pathways
A patient care pathway refers to all the services that patients interact with during an illness or injury. A Sheffield study, funded by the Changing Workforce Programme of the Department of Health, evaluated the impact of APPs on the patient care pathways.
The data showed that 54% of patients that had contact with APPs did not require referral to other services. This lowered average cost per patient from £55 in the Emergency Department to £24 for contact with an APP.
The results showed that APPs provided more treatments, discharged more patients and had higher levels of patient satisfaction. 
This highlights that APPs are essential for reducing the cost of care. They provide better services for patients by enabling them to be treated in the comfort of their own home and help to relieve the burden on emergency care services.
Evaluating APPs across different settings
Sheffield researchers led a multi-centre controlled trial funded by the National Institute for Health Research HS&DR Programme (2005-2008) to compare patient care offered by APPs in different clinical settings. The study compared patient care with APPs with standard care across different settings such as ambulance services, GP out of hours services, walk-in centres, and urgent care centres.
The trial included 5,525 patient outcomes. The study showed that APPs significantly reduced onward referral to hospital services compared with their standard provider counterparts. This was especially the case when they provided a mobile service to the patient (e.g. ambulance services) and were targeted at the elderly population.
Looking ahead
The research outlined above demonstrates that allied health professionals (primarily paramedics) working in extended or new roles as APPs are effective, cost effective, safe, and acceptable to patients.
In 2018 the National Institute for Health and Care Excellence (NICE) issued new guidance on service delivery and organisation for emergency and acute medical care in over 16s. A recommendation within the guidance was to, "Provide specialist and advanced paramedic practitioners who have extended training in assessing and treating people with medical emergencies." This guidance was based exclusively on evidence referenced directly from the clinical and cost effectiveness research undertaken at the University of Sheffield.
Since Sheffield conducted research that proves the many benefits of integrating APPs into the healthcare system, there has been a considerable growth in numbers of APPs employed by English ambulance services in advanced roles between 2014 and 2020.
The work of the Sheffield clinical and academic team has also influenced the establishment of similar schemes internationally. The cost effectiveness evidence shown in trials has been cited by an Australian report on expanding the role of paramedics in minor injury and illness, funded by Health Workforce Australia.
Written by Alina Moore, Research Communications Coordinator
Flagship institutes
The University's four flagship institutes bring together our key strengths to tackle global issues, turning interdisciplinary and translational research into real-world solutions.