Tiny Happy People: closing the language development gap in preschool children
In England almost a quarter of children start school without the language skills needed to flourish. Research by Dr Danielle Matthews is supporting the creation of accessible materials to help parents with their child's language development at home.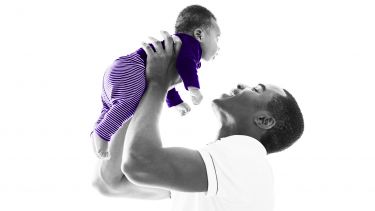 In the UK, most children start primary school in the September after they turn 4 years old. When they start Reception, children should be able to speak in full sentences and ask simple questions. These communication skills are fundamental to helping children gain confidence, make friends and enjoy learning during their formative years of education.
But some children start school without these fundamental communication skills.  
As well as limiting their ability to express themselves and tell others how they feel, communication difficulties have a direct impact on the child's long term educational development. A recent study led by the University of Sheffield highlighted a correlation between a child's level of language development at the age of five years old and their GCSE results. The link between the two was particularly evident in disadvantaged households, with children from low socio-economic backgrounds more likely to start school with fewer words in their vocabulary than their peers.
This study of over 10,000 children representative of the UK population also found that the three socio-economic factors that matter the most are parent education, household income, and parent occupational status.
Supporting a child's language development is crucial from a young age. But how can language experts make their knowledge accessible for parents and carers?
Dr Danielle Matthews is a reader in the department of Psychology at the University of Sheffield. She researches how children learn to talk, particularly when interacting with other people, and studies methods that can be applied to support children when they are at risk of language delay.
Working closely with Julian Pine, Professor in the Department of Psychological Sciences at the University of Liverpool and Director of the ESRC International Centre for Research in Language and Communicative Development (LuCiD), Danielle collaborated with the BBC to support their creation of free and accessible materials to help parents support their child's development at home.
---
If you want to support children's language development nationally you need an intervention that is affordable and can be scaled up. To reduce the negative effects of language delay it's also important to reach out to children during their earlier years to help them develop skills before they start school.

Dr Danielle Matthews

Reader in the Department of Psychology
---
Randomised control trials
Although there are well established correlations between socio-economic circumstances and factors such as vocabulary size, there is little evidence about practical steps that could be taken to promote language development and mitigate the impact of the language gap. To build up this knowledge base, Danielle first observed natural interactions between carers and children to identify features of interaction that would influence positive outcomes of the child's learning. 
In a series of randomised controlled trials involving almost a thousand families, Danielle has led studies that evaluate the impact of different interaction styles on early child language development. Often parents watch a video with information and tips that are followed up via text message. Danielle and her team would then analyse the impact on caregiver-child interaction and monitor development to review the impact of support.
Studies divide families into different groups with advice ranging from child language to health eating, dental health or being active. The content topics are randomly allocated across the groups, with each topic acting as a separate intervention condition for the study.
"Parents received age-appropriate informative videos of ways to interact with their child. For example, we know that the more you respond to babies' babble, the more they learn how to use it. Parents of a six month old child would receive information that their baby may be starting to babble alongside advice to respond if they can to encourage more two-way communication. They could also respond to us about the content with any follow-up questions to clarify the guidance or provide us with their thoughts" explains Danielle.
"Studies so far suggest that parents often do respond to tips by tuning into their child's focus of attention and talking in ways that will support development more often. The current focus of research is whether by sustaining this kind of support we can find ways to provide lasting and meaningful benefits for children in time for them to start school. This is a time consuming research programme as the bond between a parent and child is a precious thing and it's important to provide the right support without putting undue pressure on families. " she adds.
Empowering parents
Danielle's correlational research has been used by the BBC to develop evidence-based activities and materials to support children's early development.
Tiny Happy People is an initiative by the BBC to help parents support their child's language and communication skills based on the building blocks of language development. The digital hub offers free expert advice and activities that can be easily implemented into a child's daily routine to support development at home, offering a lifeline for families from all backgrounds. 
The campaign has been endorsed by HRH The Duchess of Cambridge who marked the launch and met with families involved in the pilot. The Duchess also attended workshops and worked with the creative team on video resources and social media content.
The platform hopes to raise awareness of the importance of language learning in the preschool years and empower caregivers while recognising that every child is different. The collaboration of language researchers and professionals has developed evidence-based information that celebrates different interactions with children without putting the blame on caregivers if there is a language delay.
---
The whole point of Tiny Happy People is to mitigate the effects of social disadvantage on language development.

Dr Danielle Matthews

Reader in the Department of Psychology
Written by Alina Moore, Research Communications Coordinator
Flagship institutes
The University's four flagship institutes bring together our key strengths to tackle global issues, turning interdisciplinary and translational research into real-world solutions.