Uniting experts to address infertility in the Gambia and beyond
Societal expectations of becoming a parent soon after marriage are high in the Gambia, but thousands of couples face involuntary childlessness, or infertility. Our international research collaboration is improving fertility awareness, guiding policy and transforming practice.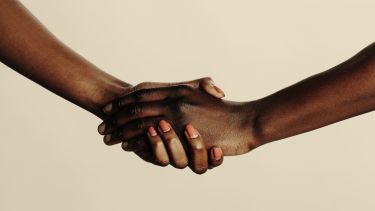 Off
Infertility, defined as the failure to achieve a pregnancy after 12 months or more of regular unprotected sexual intercourse, affects millions of people worldwide. Studies have shown that 8 to 12 per cent of couples are infertile globally, but estimates suggest that half of these couples are living in sub-Saharan Africa and South Asia.
Around the world, both women and men experience infertility caused by a range of factors. For many people worldwide who want to have children but cannot, infertility has a strong impact on their general wellbeing and on their livelihood. This is the case in the Gambia, a small country in West Africa which is landlocked by Senegal except for a small coastal area. 
As well as being Africa's smallest non-island country, it is also one of the most densely populated. In the Gambia, high societal pressure for children within marriage often results in social stigma for infertile couples, and women in particular are more likely to face depression and be subjected to divorce and interpersonal violence, as a result.
Dr Julie Balen, Senior Lecturer in Global Health at the School of Health and Related Research (ScHARR), has been leading work on infertility in the Gambia since late 2016, with funding from the ScHARR Research Stimulation Fund, the Quality Related Global Challenges Research Fund (QR GCRF) Sustainable Partnership Award, the ESRC Impact Accelerator Award (IAA), the White Rose Collaboration Fund, the UKRI Higher Education Innovation Fund (HEIF). 
This international work has been co-led with Dr Susan Dierickx, an anthropological expert based in Belgium, in collaboration with partners in the Gambia, including Safe Haven Foundation, the Medical Research Council Unit at LSHTM (MRC Gambia) and the Gambian government.
"When we started this work, there hadn't been much research on infertility in the Gambia apart from a few studies that were about 20 years old. The country - and the world - has changed a lot since then. There seemed to be a big gap in knowledge and many unanswered research questions. Infertility is defined and experienced differently by different people and cultures - it is a socially constructed as well as a biomedical health issue. With our Gambian collaborators, we wondered how to best address infertility in the Gambia, and we began by trying to understand infertility from female as well as male perspectives, and raising awareness among key stakeholders" explains Julie.
Julie, Susan and the wider research team work in close partnership with the Gambian Ministry of Health, including Dr Mustapha Bittaye, Director of Health Services, and Dr Musa Marena, Programme Manager of the Reproductive, Maternal, Neonatal, Child and Adolescent Health (RMNCAH) Programme, who have actively participated in, guided and supported all stages of the research.
"We want our research to directly benefit and impact people who are facing infertility in the Gambia and this is only possible by working in partnership with others. For example, the Ministry of Health provides us with guidance and support throughout the entire research process, from the framing of research questions, designing the studies, ensuring ethical practices, assisting in implementation, and all the way to the dissemination and uptake of findings. They have been simply instrumental to the success of this work" explains Julie.
Since the beginning, the researchers have partnered with Safe Haven Foundation, a Gambian award-winning, non-profit organisation that supports women and men through infertility and early pregnancy loss. The NGO, founded and directed by Ms Sainey Ceesay, offers services such as counselling, information, education and awareness raising to help people learn more about infertility.
"Our partnership with Safe Haven has been invaluable. We work closely with Sainey and her team who have helped us co-design the research, test and improve our methods and tools, exchange important information and share our findings with community members" says Julie.
The work has included both in-person and digital fieldwork, such as qualitative and quantitative data collection, and participatory workshops that bring together campaigners, researchers, clinicians, community leaders, policy makers and others. 
Importantly, the project involves women and men with direct experience of living with infertility, to ensure that their views and needs are better incorporated as the team works to improve awareness, guide policy and transform practice.
More recently, the team formed the White Rose-funded 'Fertility Care in the Global South Network' with colleagues from across the Universities of Sheffield, Leeds and York (White Rose Universities) as well as the University of Ghana, University of the Gambia, Makerere University and others. 
This network brings together international experts from different perspectives and geographical areas, including Ghana, Kenya, Nigeria, South Africa, the Gambia, Uganda and Zimbabwe, as well as the Caribbean and South East Asia regions. The network explores laws, policies and access to fertility care and services as well as the social and cultural contexts that influence the lives of people with infertility.
"In global health, it's crucial to work with people in different places and contexts, as well as from different disciplines, in order to learn from each other. In this project, we work with biomedical scientists, clinicians, lawyers, policy makers and civil society. Our approaches are often complementary, and working across countries and disciplines can help us build a richer and more robust set of findings" Julie adds.
The network has also benefited from information, data and lessons learnt in strengthening fertility care in different settings globally from the World Health Organization (WHO).
PhD research with an impact
Since 2019, Julie, Susan and Prof. Allan Pacey, the Director of Sheffield University's Academic Unit of Reproductive Medicine and a male infertility expert, have supervised PhD student Anna Afferri, whose research is on the inclusion and implementation of fertility care in the Gambian health system. 
Within the framework of her PhD, Anna has conducted a cross-sectional survey in 38 public and private health facilities in the Gambia to gather information on the availability of infertility services throughout the country. Anna also investigated the perspectives of policymakers and health practitioners, through qualitative methods, to understand the challenges and opportunities of implementing fertility care in the Gambian health system.
Anna's study found that up to 60 per cent of health facilities do not collect or report data on infertility to the Ministry of Health. The survey results showed that the private sector is the largest and most comprehensive provider of infertility services in the country, yet Assisted Reproductive Technologies (ART) such as in vitro fertilisation (IVF) are not available in public or private clinics.
Anna's qualitative results highlight that coordination between public and private facilities is almost non-existent and needs to be rapidly improved, and that health providers are in urgent need of specialised fertility care training. 
Although only now coming towards the end of her PhD, Anna's study has already had a significant impact in terms of the inclusion of fertility care in the Gambia's health system. 
Transforming policy and practice
Key findings from Anna's research, and from studies led by Ms. Haddijatou Allen, a Gambian Higher Scientific Officer based at the MRC Gambia, and Ms. Haddy Bittaye, Gambia's first fully trained embryologist – both members of the network – were presented at a Joint Fertility Policy Dialogue, hosted online by the Gambian government in June 2021. The event was held to discuss the inclusion of infertility into the newly developed 10-year National Health Policy and to explore ways of establishing priority areas of activity.
Ms Sainey Ceesay also spoke at the workshop, sharing personal stories of the struggles faced by couples with infertility. 
---
Sainey spoke directly to the hearts of the policymakers present at the workshop by drawing on stories – not just statistics. This brought the humanity, emotions, pain and struggles faced by people with infertility to the forefront of our attention, as we listened to, and connected with, the very personal experiences shared.

Dr Julie Balen

Lecturer (Assistant Professor) in Global Health at the School of Health and Related Research
---
During the workshop, policymakers drafted short and long term priorities, focussing on: (i) prevention, diagnosis and management of infertility; (ii) fertility literacy and community awareness; and (iii) fertility care regulatory policies, governance, ethics and partnerships. Examples include introducing taught components on infertility into the curricula of public health, medicine, nursing and midwifery programmes at the University of the Gambia, and co-developing sensitisation messages targeting adolescents and adults of both genders.
Crucially, the collaboration between the researchers, the Government and Safe Haven Foundation led to the inclusion of fertility care in the new Gambian National Health Policy (2021-30) and in the National RMNCAH Strategic Plan (2022-26).
The partnership also contributed to the co-design and implementation of Gambia's National Infertility Awareness Week, led by the Safe Haven Foundation. The team have created informative resources and activities to share important information about infertility across the country, with a focus on reaching the people affected the most.
"Although Safe Haven is a small organisation, it is impressive in reaching those who need the information the most" explains Julie.
Looking ahead
The international team continues to grow and offers different health and social perspectives on addressing infertility for people in the Gambia and in other countries of the Global South.
Through the Fertility Care in the Global South Network, Julie and colleagues have helped establish a global platform of experts to drive innovations in fertility care policy and practice in Low and Middle Income Countries (LMICs). With network members based across Africa, Asia, Australia, Europe and the Americas, the group now aims to synthesise current knowledge and to identify priorities for infertility research in LMICs.
Despite infertility being largely neglected in research, policy making and practice, the team continues to work on finding ways to increase the visibility of this issue, and to help generate funding and improve services.
"Our White Rose-funded network, with over 50 members from 16 different countries, is continuing to grow and have an impact. Our progress in the Gambia shows how much impact can be made through strong partnerships, interdisciplinary collaboration, community engagement and most of all, political will. We hope that our experiences and lessons learnt from the Gambia can be helpful to other Low or Middle Income Countries aiming to address infertility in their settings and to support the issue of fertility care, globally" says Julie.
This program of work is helping to bring about real solutions to international issues. Through this multi-country research collaboration, Julie and the team are striving towards establishing and achieving the goal of fertility care for all. New research findings and enduring partnerships will enable the design and implementation of interventions that can be used to support people living with infertility across the world.
Written by Alina Moore, Research Communications Coordinator
Flagship institutes
The University's four flagship institutes bring together our key strengths to tackle global issues, turning interdisciplinary and translational research into real-world solutions.