A new approach to the challenge water infrastructure in Africa
Researchers from the University of Sheffield are part of a centre that is trying a new approach to support nine partner universities across Africa to tackle water infrastructure challenges.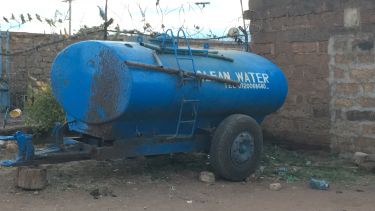 Much of Africa suffers from chronically overburdened water systems under increasing stress from fast-growing urban areas. Improvements to Africa's water infrastructure therefore remains fundamental to its development. In many cases, whilst assistance is welcomed from overseas institutions, research and technology resulting from these collaborations hasn't produced viable solutions. Often, this is because they've failed to take into account the realities of the different social, economic, political and environmental pressures of life in different African nations. 
So what is the best way to set up partnerships between developed nations and Official Development Assistance (ODA) countries that maximises knowledge transfer and contributes to useful solutions? According to Tom Kariuki, Director of Programmes at the African Academy of Sciences (AAS) – which funds and publishes research on the continent as well as advising on policy – a careful balancing act is needed when establishing these links.
"I think we need collaborations in Africa. Given where our science is, there is no doubt that…we can benefit a lot from those collaborations," Tom says in an article in Times Higher Education. But a model whereby an African researcher goes out into the field to perform primary tasks, such as the collection of medical samples, for the benefit of researchers in a lab back in the US or Europe is "no longer welcome", he adds. "At the end of three, four or five years [of collaboration] a simple question should be answered: what capacity has been left behind [in the developing country]?"
Researchers from the University of Sheffield are part of a new centre that is trying a new approach to support nine partner universities across Africa to tackle the water infrastructure challenges they're currently facing. They're part of the African Research Universities Alliance Water Centre of Excellence based at Rhodes University, South Africa. 
The Centre is working to build research capabilities across the institutions and to support them in a new adaptive systemic approach to water research. "There has been a lot of water research done in Africa and it's not solved all the problems and that's because it hasn't engaged local stakeholders and communicated effectively with those the research actually impacts," explains Professor Vanessa Speight from the Department of Civil Engineering at the University of Sheffield. "Our adaptive approach now is to engage these stakeholders from the very beginning of the research, make it really people centric and also embed social scientists alongside water scientists and engineers so that there's capacity for real change in technologies, infrastructures and behaviour."
The project is still in the early stages, but by the end of the three-year funding period the team will have established various community based water and/or sanitation projects, and we hope to see locally run spin-off projects in water & sanitation emerging as a result. They intend to mentor at least 24 early career researchers and 24 doctoral students through the Centre of Excellence to establish an African water research cohort with the capacity to continue addressing water-related sustainable development goals beyond the length of this project.  
The water issues faced by each hub within the Centre of Excellence are different. Some have problems with lack of water supply, others with pollution and some with irrigation of vital farmland. But by working in this new collaborative way with the University of Sheffield and the other partners, communities, governments and local organisations can be left with the knowledge they need to improve the water supplies themselves. 
Flagship institutes
The University's four flagship institutes bring together our key strengths to tackle global issues, turning interdisciplinary and translational research into real-world solutions.