Access to personal protective equipment (PPE) has been a cause for concern for nations around the world throughout the Covid-19 pandemic. But not everyone is in the fortunate position of being able to purchase large quantities of it to serve their populations.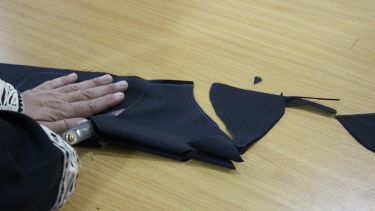 In Jordan, neither the government nor the UNHCR who manage the Zaatari refugee camp, have the buying power to compete for global PPE supplies, leaving 660,000 refugees without. 
PPE is essential to protect from Covid-19 and nobody should be without. Therefore a team of researchers from the University of Sheffield have collaborated with Al Albayt University and the University of Petra in Jordan and Syrian refugees to produce their own reusable PPE. The initiative, titled 'People's PPE' has been organised by the United Nations High Commissioner for Refugees (UNHCR). 
PPE is being developed using locally available, low cost materials that can be repurposed after the pandemic. Not only does this provide much needed PPE but it also creates training and employment opportunities at a new mask production facility, while keeping people safe and reducing plastic waste. 
Professor Tony Ryan, Director of the Grantham Centre for Sustainable Futures at the University of Sheffield and Principal Investigator on the project, said: "This project is about empowering refugees in a moment of health crisis. I've spent years working with the people of Zaatari and learning from their incredible resourcefulness and creativity."
"Faced with a global pandemic, we are working together to design and produce the protective equipment the refugees and their host community need to stay safe, while reducing plastic waste, creating jobs and building resilience within the camp community."
Flagship institutes
The University's four flagship institutes bring together our key strengths to tackle global issues, turning interdisciplinary and translational research into real-world solutions.