Dr Elizabeth Croot
PhD, MMedSci, Grad Dip Phys
School of Health and Related Research
Senior Research Fellow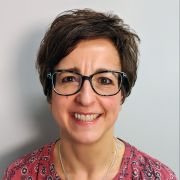 l.croot@sheffield.ac.uk
+44 114 222 1725
3004, Regent Court (ScHARR)
Full contact details
Dr Elizabeth Croot
School of Health and Related Research
3004
Regent Court (ScHARR)
30 Regent Street
Sheffield
S1 4DA

Profile

I am a Senior Research Fellow, Deputy Director of the MCRU and course director for the Masters in Clinical Research. My research expertise lies in qualitative methodology, user-centred disability research and complex intervention development and evaluation.

I am currently working on projects to explore different approaches to complex intervention development and to develop and evaluate weight management services for people with learning disabilities.

As course director for the Masters in Clinical Research, I have a strong commitment to promoting and supporting clinical academic careers for nurses and allied health professionals.

My background is physiotherapy and my PhD, completed in 2005, was funded by an NHS Executive (Trent) Health Services Research Training Fellowship.
Research interests

Health and wellbeing of people with learning disabilities
Improving patient experience of healthcare
Development and evaluation of complex interventions
Realist review

Current projects

INDEX Identifying and critiquing approaches to intervention development
DEUCE Drivers of Demand for Emergency and Urgent Care services

Previous projects

WiLD Weight loss for people with learning disabilities
COPES Community-based peer support: Developing a model for promoting health literacy
PEFUTIA Patients' experiences of follow up after transient ischaemic attack 
Publications
Teaching interests

I am course director for the Masters in Clinical Research which aims to equip graduates with the knowledge and skills to pursue a career in clinical research. I have supervised masters dissertations for the MPH and the MClinRes.

I currently supervise three PhD students:

Latifa Alenezi : A study to explore the use of cognitive strategies to manage chronic musculoskeletal pain.
Nuha Alshaaili: The Rehabilitation Journey of a Child with Disability: Parental Acceptance and Resilience.
Cheryl Grindell: Exploring the role of co-design as a knowledge mobilisation strategy for musculoskeletal physiotherapy.

I have supervised three PhD students to successful completion and I would be interested in hearing from students interested in research with people with learning disabilities, physiotherapy research or developing and evaluating complex interventions.
Professional activities

I am a member of the Chartered Society of Physiotherapy and HPC registered.