Joanne Coster
BA, MSc
School of Health and Related Research
Research Fellow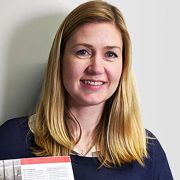 Profile

I joined ScHARR in 2003 as a Research Associate and project managed the Record REview for Safety and Quality (RReSQ) study, which developed the Structured Judgement mortality casenote review method. I have also worked on a number of research studies that evaluated emergency and urgent care policies and services for the Department of Health.

I am currently a co-investigator on a 5 year NIHR Programme Grant to develop new ways of measuring the quality and performance of ambulance service care (PhOEBE project), with specific responsibility for leading the data linking workstream. I am also undertaking a PhD that is aligned to the PhOEBE project and am a co-investigator on the VAN project I am also the Information Governance Lead for the Health Services Research Section within ScHARR.
Research interests

My research interests are in emergency, prehospital and urgent health care systems, evaluation of new and existing services, quality and safety of care, performance measurement methods, research using linked datasets and policy research.

Current projects:

PhOEBE (Outcomes and processes valued by 999 ambulance users)
PhD, supervised by Professor Nicholl and Professor O'Cathain
VAN (Variation in Ambulance Non-conveyance)
Evaluation of the NHS England Ambulance Response Programme
Publications
Teaching interests

I act as a personal tutor for postgraduate students, supervise and examin dissertation projects. I was previously the Deputy Director for the MSc in Clinical Research and also led the dissertation module.
Professional activities

Former chair of the Society of Social Medicine's Early Career Researchers' sub-committee (2013)