Dr Robert Akparibo
BSc (Ghana), MSc (Denmark), MPH (Sheffield, UK) & PhD (Sheffield, UK), MEd (Sheffield, UK)
School of Health and Related Research
Course Director of the Masters of Public Health in Management and Leadership
Director of Students Experience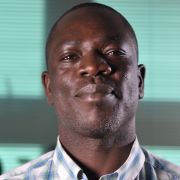 R.Akparibo@sheffield.ac.uk
+44 114 222 4269
Room 2037, 2nd Floor, Regent Court (ScHARR)
Full contact details
Dr Robert Akparibo
School of Health and Related Research
Room 2037, 2nd Floor
Regent Court (ScHARR)
30 Regent Street
Sheffield
S1 4DA

Profile

I joined the Section of Public Health of ScHARR in 2007 as a student of the Masters of Public Health programme. After a successful completion in 2008, I proceeded to the University of Copenhagen (Denmark) to study another Masters' degree course in advance Quantitative Methods in Public Health Assessment, (Epidemiology & Biostatistics). The European Commission, under the Erasmus Mundus Masters of European Public programme funded both degree programmes.

I returned to the UK (ScHARR) in 2009 to start my PhD in Public Health.  My PhD research adopted a realist methodology to evaluate what works and how of a community-based management of acute malnutrition in children below 5 years in Ghana.  ScHARR employed me in 2013, upon completion of my PhD and since then I have been working here as a University Teacher, Global Health.

Currently I am the Course Director of the Masters of Public Health in Management and Leadership, as well as Director of Students Experience.

Prior to joining ScHARR, I have carried out development work for 6 years, in top management positions, with various Governmental and Non-Governmental Organizations in West Africa. These include Ghana with the Ghana Health Service and the Association of Faith-Based Development Programme (ACDEP); Senegal with the Family Health International, and Burkina Faso with Helen Keller International.

My last two jobs before joining ScHARR were with the United Nations Child Fund (UNICEF) in Ghana and the World Health Organization (WHO) European Office for Europe in Denmark.
Research interests

My research interests are varied. Particular interest areas are:

Implementation research
Maternal and child health, including maternal health literacy research
Nutrition, including infant and young child feeding, dietary practices/patterns, food/eating behaviours and food     security research
Healthcare management, systems and policy research

In terms of methodological expertise, I have expertise in using mixed methods, realist evaluation and evidence synthesis, as well as systematic reviews.
Publications
Research group

PhD Students

Mohammad Lawan
Walter Rodney
Adachinma
Sophie Reale
Teaching interests

I coordinate and manage teaching, as well as teach on various modules (both online and face-to-face), including the Managing and Leading Health Services (f2f & online), Key Issues in Global Health (f2f & online), Using Policy to Strengthen Health System ((f2f & online), Communicable Disease Control (f2f), Disasters and Emergency Management (f2f), Strategic Management (online), Knowledge Mobilisation (f2f) and the Health Needs Assessment (f2f) modules.

In addition, I support teaching of the Masters of Medical Science in Human Nutrition (MMed in Human Nutrition), as well as the MB ChB (Medicine) undergraduate degree programme.
Professional activities

Fellow of The Higher Education Academic (FHEA)
Member of the British Nutrition Association
Member of the Africa Nutrition Association
Member of the Agriculture, Nutrition and Health Academy (ANH)
Qualified member of the 'Associations of Programme Managers' UK