Dr Sarah Credé
BSc (physiotherapy), MPH (epidemiology), PhD
School of Health and Related Research
University Teacher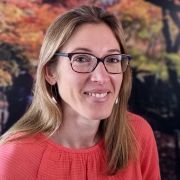 Profile

I joined ScHARR in 2013 as a University Teacher in Health Services Research.  Currently, I am the deputy programme lead for the Master of Public Health (MPH) programme and contribute to the teaching on this course and other MSc courses in ScHARR.

Prior to starting at the University of Sheffield I worked as a research manager for a non-governmental organisation in South Africa.  I completed my MPH at the University of Cape Town, South Africa, and began my academic career as a researcher within the Women's Health Research Unit, University of Cape Town.  My PhD was an NIHR Collaboration for Leadership in Applied Health Research and Care (CLAHRC) funded project and explored migrants' use of paediatric emergency departments in the north of England.
Publications
Teaching interests

I currently lead HAR6043 (Introduction to research methods online) and HAR61002 (Health promotion online).  I supervise and examine dissertation projects and provide personal tutor support to students.