The School of East Asian Studies scores highly in the latest National Student Survey (NSS)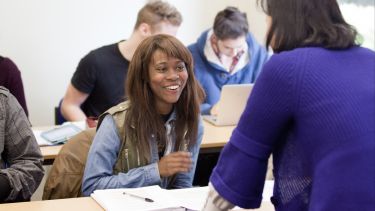 The School scored 84% for overall student satisfaction, the highest amongst Russell Group universities offering similar courses, while overall satisfaction among University of Sheffield students is nearly three per cent above the national sector-wide average, placing the University fifth overall in the Russell Group, the association of leading UK research-intensive universities.
Our School (SEAS) also scores highly in a number of other areas including academic support, learning resources and student voice.
In recent years, SEAS has implemented a number of new initiatives to improve student experience and support. These include employing a number of new staff on both our language and studies programme to ensure we offer an innovative and wide reaching academic programme. We also have a dedicated student experience and welfare team, committed to supporting students throughout their studies and ensuring they have the opportunity to voice their ideas and concerns.
The importance of student voice was also demonstrated by the performance of the University's award-winning Students' Union. According to the survey the Students' Union received satisfaction rates 18 per cent above the sector average for effectively representing students' academic interests, placing it first in the Russell Group and third among Students' Unions nationally. This follows last week's accolade in which the Students' Union was awarded the Whatuni Student Choice Award for Best Students' Union for the fourth consecutive year.
A world-class university – a unique student experience
Sheffield is a research university with a global reputation for excellence. We're a member of the Russell Group: one of the 24 leading UK universities for research and teaching.