Science Graduate School Showcase
Congratulations to all of our poster prize winners!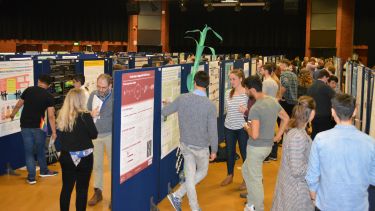 We host regular showcase events where students and staff can talk to postgraduate students from different disciplines in and find out more about the breadth of research in the Faculty of Science.
Our most recent event took place online via Google Meet on Thursday 20 May 2021, noon-5pm. All second year PhD students are were invited present a poster and prizes were awarded for the following submissions:
Animal and Plant Sciences: Chay Halliwell – Cooperation, conflict and the coordination of care
Biomedical Science: Salma Srour – Investigating host senescence responses in acute typhoid fever
Chemistry: Reuben Ouanounou – Characterisation of Fanconi anaemia nuclease 1 in DNA inter-strand crosslink repair
Mathematics and Statistics: Joseph Martin – What's the point of double categories?
Molecular Biology and Biotechnology: Katie Gelder – The effect of phase separation on enhancer-dependent gene regulation
Physics and Astronomy: Robert Foster – The WATCHMAN Project – Using neutrinos for nuclear security
Psychology: Ayu Sari – Teachers' confidence, barriers and needs in identifying mental health problems in Indonesia
People's choice award: Mengyuan Qian – Pain relief drugs removal from contaminated wastewater via Fenton reaction
Many congratulations to the winners!
Event aims
To showcase the excellence of the Faculty of Science research
To increase awareness amongst students and staff of the wide range of research being carried out and to encourage interdisciplinary thinking and collaboration across the Faculty of Science
To develop confidence in our students in the communication of their work to scientists in other disciplines
Find a PhD
Search for PhD opportunities at Sheffield and be part of our world-leading research.