Science Graduate School Showcase 2023
The countdown is on to the next Graduate School Showcase.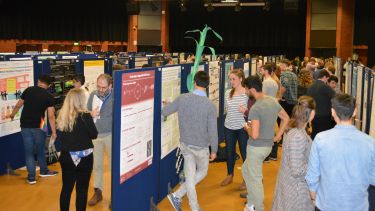 Off
The strength and breadth of research underway in the University of Sheffield's Faculty of Science will be on display at the Science Graduate School Research Showcase Event 2023.
The next event will be held on Thursday 2nd March 2023 at the Octagon Centre, Sheffield and will provide an opportunity for staff and students from across the University to come along and talk to around 250 of the Faculty of Science's postgraduate research students.
The day's schedule includes:
1.00pm - Opening speech by Professor Sue Hartley, the University's Vice-President for Research
1.00 - 4.00pm -  Poster presentations
4.00 - 4.45pm - Wine and nibbles reception
4.45pm - Prize giving and closing speeches by Professor Andy Fleming, Director of Research in the Faculty of Science
5.15pm - Event close
The presenting students will be around half way through their PhD projects and they will present their research in poster form at this exciting interdisciplinary event.
In addition to showcasing the excellent research already taking place across the Faculty of Science's two Schools and three departments, the event aims to increase awareness amongst students and staff of the wide range of research being carried out and to encourage interdisciplinary thinking and collaboration across the Faculty.
The Showcase is also an excellent opportunity to develop the confidence of these enthusiastic PhD students in communicating their work to researchers from other disciplines.
Dr Andrew Furley, Director of the Faculty of Science Graduate School, said: "We are working at a time when undertaking research across disciplines is becoming increasingly important as a means of tackling the world's most complex challenges as effectively as possible.
"It is, therefore, vital that our postgraduate researchers learn the skills that will enable them to work across disciplinary boundaries and such events provide an opportunity to recognise the importance of effective communication."
If you have any questions about the Science Graduate School Research Showcase Event please contact Rea Smith, Graduate School Manager via sciencegradschool@sheffield.ac.uk
Find a PhD
Search for PhD opportunities at Sheffield and be part of our world-leading research.