During your PhD, you'll be based in one of the University of Sheffield's science departments. When you join your department, you'll begin a programme of specialist training led by your supervisor.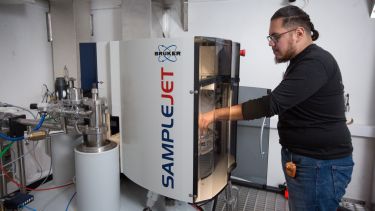 They, along with other staff in your research group, will help you get the skills you need to complete a great piece of research. If your PhD is part of a Centre for Doctoral Training, there may be additional training for you to complete as part of your centre's programme.
On top of the specialist knowledge you'll get through your department, the Science Graduate School will support your career development by helping you gain professional skills that are essential in all areas of science. Your induction to the Science Graduate School will give you an overview of training opportunities, including essential health and safety knowledge. After that, you'll be able to learn how to recognise good research and research behaviour, improve your communication abilities and experience technologies that are used in academia, industry and many related careers. Your training needs will be assessed at the start of your PhD, so we can make sure you get all the support you need.
Training we currently offer includes...
Research professionalism and integrity
This module is designed to help students learn how to analyse and reflect on the way their conduct their research, from start to finish. It deals with issues around ethical sensitivity and reasoning, so that students adopt good research practices. It also covers research practices used in other disciplines, from how to design a research project, identify methods, manage data, and write up and publish findings.
---
Think Ahead: SURE
This scheme helps researchers develop leadership skills by supervising and undergraduate as they complete a six-to-eight week research project. Student supervisors will go through the whole research process, from writing a grant application, to interviewing candidates and managing a project budget.
Find out more about this scheme at the University of Sheffield Researcher Portal
---
Writing development programme
There are a range of ways that we can support you with your writing. For example, the four-day 'Laying the foundation of effective writing' workshop helps researchers understanding the writing process, and teaches them how to face the challenge of presenting complex scientific information with clarity. There is an emphasis on applying common principles to different types of writing while recognising the specific requirements of each one. Researchers consider how to apply these principles to the writing they will complete throughout their career, such as progress reports, conference abstracts, grant applications and scientific publications.
---
Developing teaching skills
We run several workshops under the Sheffield Teaching Assistant banner to help PhD student improve the teaching skills that are essential in many academic careers. Topics covered include research supervision, how to run seminars, how to demonstrate in laboratories, lecturing, research supervision, assessment and feedback.
Find out more about the Sheffield Teaching Assistant at the Learning and Teaching Services webpages
---
Springboard
Springboard is a personal and professional development programme for women. It is designed to help researchers:
build their confidence and assertiveness have a greater sense of direction
take clear practical realistic steps to take more control over their life
find out what they value
make decisions and take action based on their values
balance their lives better and achieve their academic/ professional potential
create a supportive network of women researchers within the University
Find out more about this programme at the University of Sheffield Researcher Portal
Find a PhD
Search for PhD opportunities at Sheffield and be part of our world-leading research.