Sheffield is a creative city with a rich cultural heritage and thriving contemporary arts scene.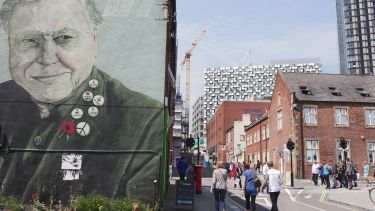 Immerse yourself in culture
Sheffield is full of creative energy. Art, theatre and history gems can be found on pretty much every street corner.
Museums Sheffield offers three great venues in the city centre, which celebrate home-grown talent and bring outstanding international experiences to Sheffield. There's the spectacular Millennium Gallery for art, crafts and history. The Graves Gallery's breathtaking collection of visual art spans centuries and continents. 
And next to the University there's Weston Park Museum, where you can explore natural history, art and events from the city's social history. For a further glimpse into Sheffield's past, a visit to Bishops' House is a must. 
Pioneering contemporary art can be found at Site Gallery, S1 Artspace and Bloc Projects, and those with a keen eye will discover a thriving underground and street art scene - including pieces by Pete McKee and Phlegm.
Next to the Peace Gardens and the Millennium Gallery you'll find Sheffield's award-winning Winter Garden where you can explore 2,500 plants from around the world, catch an exhibition or have a coffee and put your feet up.
Many of Sheffield's museums and galleries are free or discounted for students, making it easy to absorb some culture without breaking the bank!
And if you're a theatre lover, you'll find one of the largest regional theatre complexes outside of London in the Crucible Theatre. They offer £5 tickets for young people. You'll also find a diverse offering at Theatre Deli. 
---
Sheffield has a vibrant arts scene, with various exhibitions held throughout the year to display independent artists' works.

These include Open Up Sheffield, Art in the Gardens (held in the Botanical Gardens) and the Great Sheffield Art Show. Museums and art galleries in Sheffield showcase the city's rich industrial history and give a glimpse of life in the past. The most popular is the Millenium Gallery, which houses the beloved Ruskin collection.

During my time in Sheffield, I have found the city to be lively and multicultural.

Connie Yan

Dentistry
---
Festivals
There's no shortage of festivals in Sheffield. Whatever you're into, you'll find something you'll love. 
Tramlines music festival
Big names and grass roots, 40,000 people descending on Hillsborough Park and fringe events all over the city. It's loud, it's fun, and it happens every summer. Previous headliners have included Noel Gallagher's High Flying Birds, Dizzee Rascal and the Courteeners.
Off The Shelf
A festival of literature and ideas featuring some of the world's leading authors, poets and thinkers.
Doc/Fest
Showcasing the art of the documentary, this vital programme of screenings,talks and premieres brings filmmakers from all over the world to Sheffield.
Festival of the Mind
We bring together the University's academics and professionals from Sheffield's cultural, creative and digital industries to bring our research to life in exciting, entertaining and innovative ways.
---
Sheffield has a great range of festivals hosted all year round - there's something for everyone with music festivals like Tramlines, Bassfest and Get Together. Or if you fancy checking out something a little more arty, you could go to Off the Shelf, Doc/Fest, or the Festival of the Mind.

Ruby Watson

English Literature
A world-class university – a unique student experience
Sheffield is a research university with a global reputation for excellence. We're a member of the Russell Group: one of the 24 leading UK universities for research and teaching.