Our neighbourhoods have something for everyone. Students find Sheffield is a place they can call home, with many choosing to stay here after graduation.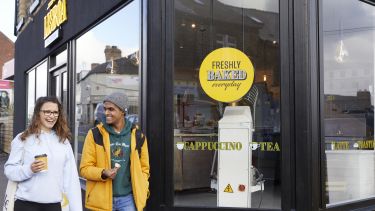 There's lots to discover beyond campus. Our students love living in local neighbourhoods with big student populations, like Crookes and Broomhill.
Division Street is a ten minute walk from campus, and is lined with independent vintage shops, cafes and bars.
Kelham Island, two minutes away from the campus by tram, has been voted one of the world's coolest neighbourhoods.
And though it's big, Sheffield is pretty easy to get around. You can walk to loads of places, or hop on the bus or tram.
---
Ranmoor/Endcliffe and City Residences
Ranmoor/Endcliffe is, the largest undergraduate student community in Sheffield. It's a short walk from campus and offers a safe and welcoming environment with on-site support all year round. 
The accommodation is close to some of Sheffield's most popular parks and is a short bus ride away from the Peak District. There's onsite facilities including a shop and a bar, and Residence Life mentors arrange over 1000+ activities each year to keep your social calendar busy.
---
Broomhill, Crookes and Crookesmoor
Broomhill is a short walk from campus, on your way to the Endcliffe/Ranmoor residences. Crookes and Crookesmoor are just next to Broomhill. A lot of students – especially second and third years – rent houses here so they can be more independent.
You'll find busy high streets with a good range of shops, from pharmacies, banks and charity shops, to zero-waste shops and supermarkets.  All areas are on main bus routes, with buses roughly every ten minutes to campus and the city.
---
Broomhill is full of cute cafes, funky charity shops, cool pubs and delicious restaurants. Personal recommendations would be Vittles cafe for a cooked breakfast or Proove for some of the best pizza you've ever tasted.

Another fantastic area to explore nearby is Crookes, home to one of the best places to visit – Bolehills park. On any given night, groups of students can be found huddled on picnic blankets watching the sunset over Sheffield
 

Martha Page

Medicine
---
Ecclesall Road and Sharrow Vale
Ecclesall Road is hugely popular with students and locals. A short walk from campus, it's packed with cafes, restaurants and independent shops.
Once you discover Sharrow Vale Road, you quickly become a regular. Tucked away behind Ecclesall Road, it has  quirky pubs, stacks of indie shops and cafes and one of the best chippies in the country (Two Steps).
---
Ecclesall Road is a place you can visit time after time and there's always something different to do.

Sharrow Vale road is just behind Ecclesall Road which has cute little cafes including Eve kitchen which do the most amazing fresh doughnuts. Then you can grab an Instagrammable snack from Pom kitchen who specialise in vegetarian and vegan food

Aminah Patel

Medicine
---
Kelham Island
Two minutes from campus by tram and a short walk away from the city centre, there's one of the coolest neighbourhoods in the world* waiting to be explored.
*Kelham Island is the 35th coolest neighbourhood on the world, according to Time Out 2022
Student picks:
---
If you love music, the regular gigs at Yellow Arch Studios – where the Arctic Monkeys began – are a great introduction to Sheffield's grass roots scene. And there are microbreweries, indie shops and art galleries in the area.

But for me, Kelham Island's biggest draw is the huge variety of amazing food
 

Tori Wensley

International Criminology
---
Devonshire Green and Division Street
With a distinctly independent vibe, Division Street is the place to be if you want to try something a little bit different. With plenty of cafes, vintage shops and bars - this alternative corner of the city offers plenty of treasures. 
At its heart is Devonshire Green, which is usually full of people hanging out, enjoying food from the local takeaways or soaking up the sun.
Student picks:
Vulgar - find your next great purchase at this independent vintage shop
Forum - all day dining, coffee, crafted cocktails and late-night DJs
Bungalows and Bears - quirky, cool, city centre music venture and burger joint
---
London Road and Abbeydale Road
Vibrant and multicultural, London Road and Abbeydale Road sit south of the city centre, around a 20-minute walk from campus. Although a popular destination for its choice of restaurants and takeaways, you'll also discover international food shops to cook up a feast at home.  
Five student favourites: 
A world-class university – a unique student experience
Sheffield is a research university with a global reputation for excellence. We're a member of the Russell Group: one of the 24 leading UK universities for research and teaching.