Sheffield itself is pretty easy to get around and offers great transport links to other major cities.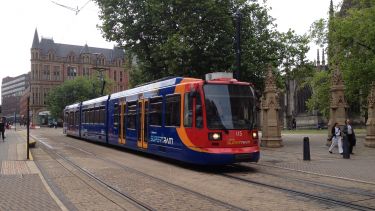 Getting here
Sheffield is in the centre of the UK with great transport links to other major cities. By train, we're just 2 hours from London and within an hour of Manchester, Leeds and Nottingham. 
There are 4 international airports within an hour's drive of Sheffield (including Manchester Airport) so getting here, visiting family or exploring the globe whilst you study couldn't be easier.
Getting around
Though it's big, Sheffield is pretty easy to get around. It's just a 25 minute walk from the train station to our campus. Our campus sits on the edge of the city centre and is a short walk from student accommodation. 
Sheffield is the perfect city to explore on foot. You won't need to go far to find well-known restaurants, major and international supermarkets, cinemas, bars and places to meet your friends.
There are bustling neighbourhoods waiting to be explored, and easy public transport options to every part of the city. As a student, you'll also benefit from £1 student bus tickets with FirstBus.
If you fancy an outdoor adventure, you'll have the Peak District National Park on your doorstep with fast public transport options to popular hikes, country houses and tranquil green villages.
Explore
You can find train times and prices on the National Rail website.
For local travel, visit Travel South Yorkshire.
Visit the Peak District website to discover more about visiting. 
A world-class university – a unique student experience
Sheffield is a research university with a global reputation for excellence. We're a member of the Russell Group: one of the 24 leading UK universities for research and teaching.