Translation and Intercultural Communication Studies
We have a long-established profile of outstanding teaching and internationally excellent research which creates a dynamic and diverse research community, which includes a thriving group of postgraduate researchers.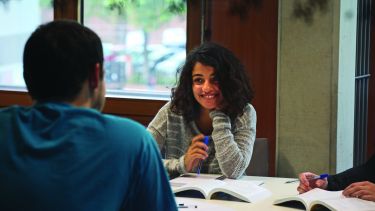 The majority of our work focuses on Applied Linguistics and the relationship between theory and practice in Translation and Intercultural Communication Studies; our work is therefore often collaborative, interdisciplinary, and international. It is grounded in real-life concerns and includes collaboration with partners outside academia (industry, communities).
Thinking of a PhD?
We welcome PhD proposals from applicants from a variety of academic backgrounds. Please see the individual staff pages for details on their areas of work and research interests
Our academic staff can offer MPhil/PhD supervision on a wide variety of topics. Please see the individual staff pages for details on their research interests and current PhD projects:
Dr Nicole Baumgarten: Lecturer in Translation and Intercultural Communication Studies.
Dr Lena Hamaidia: Lecturer in Translation and Audio Visual Studies. 
Dr Jane Woodin: Lecturer in Intercultural Communication Studies. 
---
Our current PhD students:
Andrea Antoniou: An Ethnography of life in the Larissa Refugee Camp in northern Greece (WroCaH Scholarship)
Milena Chaine: (2021 AHRC Collaborative Doctoral Awards Scheme): Non-literal language sue in machine and human translation for dubbing
Rob Fritz: Intercultural competence and global-mindedness in the Japanese context
Jessica Oppedisano: Stereotyped Female Gender Role Portrayal in Disney Princess Songs and Dialogues and Translation for Dubbing into Italian
Zulkifli Tanipu: Recurrent Multiword Sequences in EFL Student's Academic Writing
---
Previous PhD Students have researched in the areas of:
Semantic and pragmatic tensions in the representation of the notion of citizenship in the translation of multilingual EU documents
The subtitling of English satire in Arabic
Translation and/as Empathy: Mapping Translation Shifts in 9/11 Fiction
Multilingualism and representation of Citizenship in the EU context
The role of language in facilitating trans-cultural mental health work
Narrative approaches to identity and whiteness in intercultural contexts (ARHC-funding)
For more information on our research programmes, entry requirements and funding opportunities, please e-mail Claire Leavitt (c.leavitt@sheffield.ac.uk), our Postgraduate Research Officer, or visit our postgraduate research pages.
Weekly online events
Attend an online event when it suits you, all year round, as an alternative to an open day.
Every Wednesday, Sheffield Live sessions cover different aspects of University life. You can also meet your department and learn more about studying your subject.