Translation and Intercultural Communication Studies
Our research and teaching are very closely linked, and students benefit from this. Classes on the Translation and Intercultural Communication MA programmes are enhanced by staff's individual research profiles as well as our involvement in the School's research clusters and the Centre for Linguistic Research.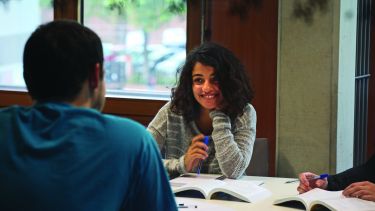 The majority of our work focuses on the relationship between theory and practice in Translation and Intercultural Communication Studies; our work is therefore often collaborative and interdisciplinary. We have a growing number of PhD students interested in our work, and you can find current PhD students' projects here.
Thinking of a PhD?
After finishing their degree in Translation and Intercultural Communication Studies, some of our students decide to continue their studies onto a PhD –usually to explore the topic of their MA dissertation in more depth.
Our academic staff can offer MPhil/PhD supervision on a wide variety of topics, please see the individual staff pages for details on their research interests and current PhD projects.
For more information on our research programmes, entry requirements and funding opportunities, please e-mail Claire Leavitt, our Postgraduate Research Officer, or visit our postgraduate research pages.
Explore all postgraduate courses
A masters from Sheffield means in-depth knowledge, advanced skills and the confidence to achieve your ambitions.