HAR404: Innovative Designs for Research Impact (online)
The Innovative Designs for Research Impact (online) module is led by Steve Ariss. It runs in the Autumn semester and is worth 15 credits.
---
The Innovative Designs for Research Impact module is led by Steve Ariss. It runs in the Spring semester and is worth 15 credits.

It is one of the modules on:
---
This module will ensure that clinical research practitioners are aware of innovative study designs. This will include consideration of project management, patient recruitment and retention, and delivery of the project. We will use real-world case studies from the National Institute for Health Research  to discuss novel designs (e.g. multi-arm, adaptive, stepped-wedge trials and complex, mixed-methods studies) and how these might change approach to delivery.
---
By the end of the module, students will be able to
describe commonly used research designs
recognise strengths and limitations of commonly used designs
explain the benefits of innovative designs
identify potential challenges or considerations when using a novel design
summarise study designs in lay friendly language to potential participants
illustrate how innovative designs can lead to greater impact
describe how different study designs are appropriate for specific interventions or producing different types of evidence
appraise the work of others and communicate this through peer feedback
recognise key aspects of environmental sustainability as applied to health research
---
The module will be delivered using a mix of synchronous (recorded) online tutorials, online videos, audio podcasts, written materials, and online ('text chat') discussion, which students can complete in their own time during the module.

Engagement with online text discussions will be a key learning activity and therefore a required component. Students providing peer review of other's contributions to online discussion groups will assess this engagement.
The content of our courses is reviewed annually to make sure it is up-to-date and relevant. Individual modules are occasionally updated or withdrawn. This is in response to discoveries through our world-leading research, funding changes, professional accreditation requirements, student or employer feedback, outcomes of reviews, and variations in staff or student numbers. In the event of any change we'll consult and inform students in good time and take reasonable steps to minimise disruption.
Information last updated: 24 October 2023
---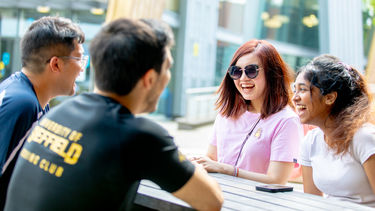 International Merit Scholarships
We offer a generous package of financial support for international students including 75 undergraduate scholarships worth £10,000 towards the annual tuition fee and 125 postgraduate taught scholarships worth £5,000 towards the tuition fee. Applications are now open for existing offer holders.