Breast cancer charity Second Hope awards first ever PhD studentship to researchers at the University of Sheffield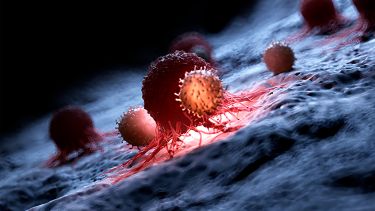 Secondary Breast Cancer, which is also called Advanced Breast Cancer, Metastatic Breast Cancer or Stage Four Breast Cancer, occurs when the cancer spreads from the breast to other parts of the body including the bones, lungs, liver and brain. At this point the cancer cannot be cured, but patients receive treatment and can live for several years.
Second Hope is a UK charity dedicated to supporting people living with Secondary Breast Cancer. Its mission is to raise awareness of the condition, provide support to patients, campaign for policy changes and raise funds for research to improve the outcome for patients.
The Julie Phillips Second Hope PhD Studentship is named after the charity's founder, who died in 2015, just days before Second Hope was launched.
Funding for the studentship has come from charity events around the country, and generous donations from friends and families whose loved ones have died of secondary breast cancer.
Future studentships will be named after the late Sue Stocksley and Karen Yorke, both past Trustees of Second Hope.
Professor Ingunn Holen and Dr Penelope Ottewell from the Department of Oncology and Metabolism at the University of Sheffield have secured the three-year grant to fund a PhD student.
Breast cancer can return and spread after many years, as cancer cells may lie dormant in the bone marrow. We do not yet understand how these cells survive for so long, or what triggers them to wake up and form new tumours in a proportion of patients. Our aim is to find out which processes are involved in breast cancer recurrence and spread, as this continues to claim far too many lives."

The project, funded so generously by Second Hope, will help identify how normal bone and cancer cells co-operate in the early stages of breast cancer recurrence.

Ingunn Holen, Professor of Bone Oncology

University of Sheffield | Department of Oncology and Metabolism
Professor Holen added: "This work may ultimately contribute to the development of novel therapies that prevent the growth of tumour cells in bone responsible for metastatic disease. We are now looking to recruit an excellent student to join our team to carry out this exciting project, if you are interested please do get in touch."
One in eight women in the UK is diagnosed with breast cancer each year and 30 per cent of them will go on to develop secondary or advanced breast cancer. Around 11,400 women and 400 men die of advanced breast cancer each year in the UK, with just 20 per cent living beyond five years once the cancer spreads.
Second Hope Trustee Fiona Leslie, 50, was diagnosed with breast cancer in 2013, developed secondary breast cancer in her spine and lungs in 2014 and in her brain in 2017. She has chemotherapy every three weeks and has also been treated with whole brain radiotherapy.
She said: "We are delighted to award this grant to Professor Holen and her team at Sheffield as they are pushing the boundaries, helping to develop new treatments for those of us facing a very uncertain future.
"Only around seven per cent of funding for breast cancer research is dedicated to those with secondary conditions, a figure that needs to be massively increased if we are going to stop thousands of patients dying each year."
Carol Gawley, 54, from Sheffield, is treated at Weston Park Cancer Hospital. She was diagnosed with primary breast cancer in April 2015, but by December 2016 it had spread to her brain and lungs, and is now also in her kidneys and adrenal glands.
Carol has been treated with brain surgery, stereotactic targeted radiotherapy, a clinical trial and chemotherapy. She is currently awaiting eligibility results for another clinical trial.
Carol said: "I'd only been married for seven months when I received my secondary diagnosis with a prognosis of 12-24 months, so research is incredibly important to me to give me and my husband more time together."
Claire Molyneux, 51, also from Sheffield, was diagnosed with primary breast cancer in 2012 but was then told it had spread to her spine, hip and pelvis in 2015. In November 2016 she set up the Cancer Treat Club, offering free and fun activities in Sheffield for anyone with life-limiting cancer aged roughly between 40 and 60.
The Cancer Treat Club meets on the first Friday of every month to do something fun and have the chance to chat with others of a similar age and in a similar situation. I set up the group as I felt there was no support for middle aged/relatively young people to live well with secondary cancer. Initiatives such as the Second Hope studentship will help those specifically affected by secondary breast cancer in the future. I am very proud such ground-breaking work is being carried out in my home city."

Claire Molyneux, 51

Founder of the Cancer Treat Club
Julia Plummer, 49, lives in Rotherham but receives all her treatment at Weston Park Hospital in Sheffield. She was diagnosed with secondary breast cancer in 2012 – seven years after her primary diagnosis. Her cancer has spread to her sternum, lung, and bones.
Julia says: "I have undergone operations, chemotherapy, radiotherapy and am awaiting the results from a plasma match targeted trial. If I'm not a match I only have one chemotherapy option left. New developments are therefore essential."