Marcus Cumberbatch awarded Hunterian Professorship for work on social inequality and cancer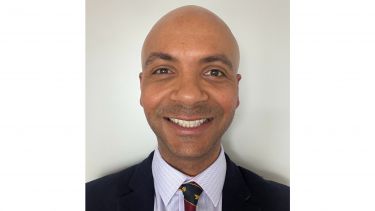 The Professorship was awarded by the Royal College of Surgeons of England, the highly prestigious professional body for surgeons, established in 1800. The award celebrates Marcus' commitment to research on improving the early detection of cancer, by identifying certain sub-groups of people who are more at risk than the general population. 
Marcus Cumberbatch is an NIHR Clinical Lecturer in Urology, which means he splits his time between research and his role as a urological surgeon focussing on the bladder and prostate. 
"Survival in bladder and kidney cancer has not really improved in several decades. Patients typically first see a doctor when the cancer is already at a late stage of progression. Sadly, although the cancer can mostly be treated, it all too often means a cure is not possible. In Yorkshire, unfortunately more people die from bladder cancer than most other parts of the UK."

Marcus Cumberbatch

Department of Oncology and Metabolism
The Professorship, awarded annually, recognises a researcher's whole body of work. It means Marcus will be able to use the courtesy title of Professor for the duration of 2023 and present at the British Association of Urological Surgeons conference in June 2023. In his lecture, Marcus will share his research dating back to 2013 on the role of social inequalities in how often urological cancers occur in different groups of people and why. He will also discuss the extent to which this can inform cancer screening. 
Marcus' early research involved talking to patients living in more socio-economically deprived parts of South Yorkshire. He found that several factors such as travel time, bus availability, shift work or a general mistrust of doctors could all lead to people avoiding getting symptoms checked. 
Marcus' recent work uncovered a concerning link between deprivation and bladder cancer. His research found a 10% difference in survival at five years between those living in the least and the most socio-economically deprived areas.  The gap increased to 13% among women. From this work, Marcus was able to identify 'social biomarkers' - socio-demographic risk factors associated with a higher probability of bladder cancer. Integrating these social biomarkers into the patient pathway could significantly improve the outcome for bladder cancer patients. He explained: "Blanket screening of bladder and kidney cancer is not viewed as cost effective due to the relatively low prevalence of the cancer within the general population. But, targeting screening to those most at risk could increase cost effectiveness and ultimately improve the outcome for these patients". During his Professorship, Marcus is co-leading the YorkSURE study, the FINESSE trial and is the local principal investigator for two separate trials which aim to evaluate patient outcomes of robot-assisted surgery of the kidney and prostate (known as the VISP and MASTERY trials respectively).
He said: "I am thrilled to receive this award, which will help me build momentum to progress this research. Sheffield has been a great place for my research - it's a friendly place and the university openly supports new ideas." He also credits Professor Jim Catto, among other colleagues at the university, for providing great mentorship: "You certainly need a clear vision of where you want to be. But it can be hard to know what opportunities are available, where to go and who to speak to. I've been grateful to have access to Jim and other mentors' experience - listening to their advice has been vital." 
Marcus' work is just one example of research which aligns with the University of Sheffield's cancer research strategy. Through the new strategy, the University aims to prevent cancer-related deaths by undertaking high quality research, leading to more effective treatments, as well as methods to better prevent and detect cancer and improve quality of life.
Flagship institutes
The University's four flagship institutes bring together our key strengths to tackle global issues, turning interdisciplinary and translational research into real-world solutions.