North receives £10 million government investment for AI and digital pathology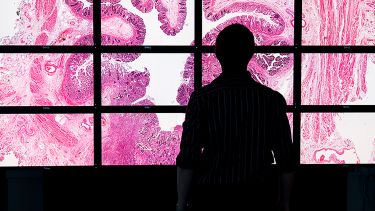 Greg Clark, Secretary of State for Business, Energy and Industrial Strategy (BEIS), announced the investment today (6 November 2018), as part of the Industrial Strategy Challenge Fund.
The national funding from UK Research and Innovation is boosted by an initial investment of £7m from companies involved in the programme and will allow the creation of a digital pathology clinical network and research programme.
The successful partnership bid, which was led by the University of Leeds and Leeds Teaching Hospitals, includes a network of nine NHS hospitals, seven universities and 10 industry-leading medical technology companies, called the Northern Pathology Imaging Co-operative (NPIC).
The consortium is set to become a globally-leading centre for applying artificial intelligence (AI) research to cancer diagnosis.
The research team in Sheffield, led by Professors Simon Cross and Angela Cox, will be investigating biomarkers which can be used to predict the response to therapy in breast and bowel cancer. Slides stained for specific protein biomarkers will be digitised and then AI algorithms will be used to analyse these images and provide quantitative data on the expression of the biomarkers.
It is hoped that, once validated, these techniques can be used routinely in pathology laboratories to provide oncologists with much more specific information that they can use to select the best treatment for each individual patient.
---
I was involved in using AI techniques to identify cancer cells in clinical specimens over 20 years ago with my colleague Professor Rob Harrison, but at that time there were technical barriers which couldn't be overcome. It is exciting that the technology has evolved to a point where it is now on the cusp of use in everyday clinical practice.

Professor Simon Cross

University of Sheffield - Department of Neuroscience
---
Dr Yvette Oade, Chief Medical Officer at Leeds Teaching Hospitals NHS Trust, added:
This is a really exciting step for patients because computers using AI can be trained to recognise the patterns of disease. Machines will support clinically trained pathologists to diagnose cancer faster, better and at a lower cost. We can also explore how to use digital pathology as part of precision medicine to ensure patients receive treatments tailored to their disease. This is a huge opportunity for Yorkshire to lead in this new area and further enhance our position as a hub for medical technology.

Dr Yvette Oade

Chief Medical Officer at Leeds Teaching Hospitals NHS Trust
---
NPIC will put new digital pathology scanners into a network of northern NHS hospitals, including all of the hospitals across West Yorkshire and Harrogate, to gather digital pathology images for training AI systems. This will generate about 760,000 images per year, about 1.2 Petabytes of data.
The project also aims to develop more integrated ways of working across regional clinical pathology services.
Clinicians will then work with industry and academic researchers to make new AI systems capable of analysing digital pathology images, leading to better diagnoses for diseases like cancer.
The work will stimulate AI research locally in academic and business sectors, creating jobs and supporting economic growth.
---
Early diagnosis of illness can greatly increase the chances of successful treatment and save lives. The centres announced today bring together the teams that will develop AI tools that can analyse medical images varying from x-rays to microscopic sections from tissue biopsies. AI has the potential to revolutionise the speed and accuracy of medical diagnosis.

Professor Sir Mark Walport

Chief Executive of UK Research and Innovation
---
A key part of the project is to consider the ethics of data sharing to ensure NPIC partners abide by the highest professional standards when images are utilised for research purposes.
NPIC will engage patients and the public in a programme of work about the use of anonymised images for AI research. It will also inform the development of a 'national pathology exchange' - software that allows images to be shared between NHS sites nationally so that patients can benefit from second opinions from anywhere in the UK.
Flagship institutes
The University's four flagship institutes bring together our key strengths to tackle global issues, turning interdisciplinary and translational research into real-world solutions.