Professor Allan Pacey receives highest honour from British Fertility Society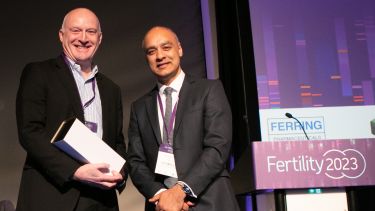 Professor Allan Pacey, Head of the Department of Oncology and Metabolism and the Department of Infection, Immunity and Cardiovascular Disease, has been awarded Honorary Membership of the British Fertility Society (BFS) in recognition of his exceptional contributions to research, scholarship, and public engagement in male infertility over the past 30 years.
This recognition includes his outstanding research on male infertility, as well as his influential voice in public engagement of the topic through radio, film, television, and live events over the past 30 years.
Allan is only the 38th recipient of Honorary Membership of The British Fertility Society in its 50 year history. Previous winners include the late Professor Robert Edwards who won a Nobel Prize in 2010 for the development of in vitro fertilisation.
I am absolutely delighted to receive this award and be honoured in this way. My association with the British Fertility Society has been an absolute joy and I hope that I have managed in some small way to move the field forward during my career.

Professor Allan Pacey
Dr Raj Mathur, Chairman of the British Fertility Society, said: "Professor Pacey is a pre-eminent figure in Andrology and Fertility, whose contributions range from a wide portfolio of research to training of healthcare professionals and improved public understanding of the science of male reproduction. He has been a mentor to several researchers and clinicians and, as a previous Chair of the British Fertility Society, represented the entire fertility sector in the UK at a national and international level. We are delighted to be able to award him Honorary Membership of our Society as a mark of our esteem and gratitude for his work."
Allan has been an active member of the BFS since the early 1990s serving as a former Secretary from 2005 to 2010 and Chairman from 2012 to 2015, as well as for the past seven years being Editor-in-Chief of the BFS journal Human Fertility, a post he retired from at the end of 2022.
The British Fertility Society was founded in 1973 by IVF pioneer Patrick Steptoe and other colleagues and now has over 1,000 members including doctors, nurses, scientists, embryologists, and counsellors – all involved in the provision of fertility treatment and care.
Allan's research career began when he obtained his PhD from the University of St. Andrews. He then spent a year working at a laboratory of the Université Pierre-et-Marie-Curie, now part of the Association Sorbonne Université, funded by the Royal Society of London.
He came to Sheffield in 1992 as a postdoctoral research assistant, before being appointed as Lecturer in 1997, Senior Lecturer in 2001 and subsequently promoted to Professor in 2015.
Allan will be familiar to many through his work on radio, television, and film to explain the science behind human reproduction and infertility. Highlights include 'Me, My Brother and our Balls' (BBC Three (2020)), 'Alex Jones – Fertility and Me' (BBC One (2016)), 'Britain's Secret Code Breaker' (Channel 4 (2011)), 'Donor Unknown' (Cinema Release (2011)), 'The Great Sperm Race' (Channel Four (2009)), 'The Truth About Food' (BBC Two (2007)), 'Make me a Baby' (BBC Three (2007)) and 'Lab Rats' (BBC Three (2004)), among others.
Previously Allan's work has been recognised by the Royal College of Obstetricians and Gynaecologists who awarded him an Honorary Fellowship in 2014. In 2016 Allan was also awarded an MBE by the late Queen Elizabeth II for his services to reproductive medicine.
Flagship institutes
The University's four flagship institutes bring together our key strengths to tackle global issues, turning interdisciplinary and translational research into real-world solutions.