Researchers develop award-winning tool using AI to measure heart's function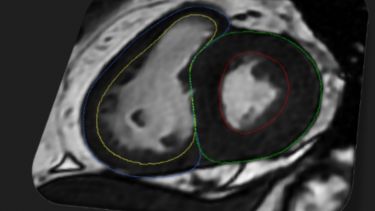 The Sheffield team - which included Dr Andrew Swift, Dr Samer Alabed and Dr Mahan Salehi; Dr Kavita Karunasagaraar at Sheffield Teaching Hospitals NHS Foundation Trust; and Dr Pete Metherall and Michael Sharkey at 3D Lab - has developed a cutting-edge tool that provides doctors with immediate measurements of the heart's function.
Thanks to its speed and accuracy, the tool allows doctors to read results from magnetic resonance imaging (MRI) heart scans within seconds, removing the need for time-consuming and resource-intensive heart measuring methods.
With the potential to benefit the wider NHS, the tool was awarded a Medipex NHS Innovation Award for using AI to improve patient services and safety.
We are delighted to have won this award. The work to automate cardiac MRI measurements with AI began three years ago, so it is fantastic that the huge potential that this tool has in improving patient care through the provision of fast and accurate measurements from cardiac MRI scans has been recognised by the Medipex NHS Innovation Awards and Showcase. It has been a team effort, with a lot of input from lots of people, and we are hugely grateful for their help and support.

Dr Andrew Swift

Senior Clinical Research Fellow, Medical School, and Honorary Cardiothoracic Radiologist, Sheffield Teaching Hospitals NHS Foundation Trust
MRI heart scan results provide detailed information on how the heart is pumping and allow doctors to check on patients' heart health, give diagnoses, and start or adjust treatments.
To read these results, doctors currently have to manually contour the heart scan images and then undertake complex volumetric and mathematical calculations to work out the blood flow in and out of the heart.
The Sheffield team worked with world-leading computer scientists from Leiden University to resolve this problem by training the tool's algorithm to recognise the heart's complex chambers on MRI pictures and automatically contour the entire cardiac cycle.
With each successfully contoured scan, the tool can free up approximately 30 minutes of doctors' and expert imaging specialists' time for the further benefit of patients.
The technology was validated over a three-year period in over 5,000 anonymised scans from patients at Sheffield Teaching Hospitals and from MRI cardiac scans taken at over 30 UK centres.
We have a long and proud history of pioneering new research and innovation that can be adopted for wider patient benefit. We are delighted that the talents of our scientific and clinical teams in identifying and looking for solutions for healthcare problems have been recognised in this prestigious regional awards scheme.

Professor Wendy Tindale OBE

Director of Innovation at Sheffield Teaching Hospitals
Flagship institutes
The University's four flagship institutes bring together our key strengths to tackle global issues, turning interdisciplinary and translational research into real-world solutions.