Sheffield scientists win crucial grants to take forward prostate cancer research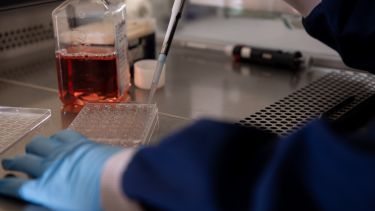 Two grants totalling £600,000 awarded to pioneering prostate cancer research projects at the University of Sheffield
The innovative research aims to stop the spread of cancer and prevent the disease from growing back after primary treatment
Prostate cancer is the most common cancer in men and the disease kills one man every 45 minutes in the UK
The revolutionary research has been awarded two grants totalling £600,000 from leading men's health charity, Prostate Cancer UK, as part of their £2.7 million Research Innovation Awards scheme, which encourages researchers to develop forward thinking, ambitious research proposals which challenge the status quo.
The first study, which is being led by Dr Ning Wang, will test whether various types of exercise can stop prostate cancer cells from moving into and growing in the bones (bone metastasis) using preclinical models.
---
When prostate cancer spreads it will more often than not go to the bones. This is not only extremely painful, it can be incredibly hard to treat. We know that exercise benefits bone health and we think that this could have the potential to prevent cancer cells from setting up camp in the bones.

There's no denying that exercise is good for us but it could prove to be especially beneficial for the thousands of men diagnosed with prostate cancer every year and we're delighted to be working with Prostate Cancer UK on this project.

Dr Ning Wang, Research Fellow

University of Sheffield | Department of Oncology and Metabolism
---
Bone metastasis occurs in approximately 70 per cent of patients with advanced, life-threatening prostate cancer.
Currently, scientists' understanding of the mechanisms that regulate the spread of cancer cells to the skeleton is limited, in particular how lifestyle changes such as exercise impact on the incidence and progression of metastases.
Although studies have been carried out to establish the benefits of exercise in improving quality of life for prostate cancer patients in general, these studies have not examined whether and how exercise could be used for the suppression of prostate cancer spread to bone.
The second study is being led by Professors Claire Lewis and Janet Brown and investigates whether changing the behaviour of a type of white blood cell in prostate tumours could prevent the disease from growing back after primary treatment, and so postpone or prevent the need for surgery.
Men diagnosed with localised prostate cancer, that is still contained within the gland, are often treated with hormone therapy, radiotherapy and/or chemotherapy from the outset in a bid to shrink the cancer before surgery. However, surgery can result in distressing side effects such as incontinence and impotence. This research will test a method which could postpone and potentially avoid the need for surgery altogether following primary treatment.
---
We hope that by reprogramming a type of immune cell in prostate cancer tumours we can alter its behaviour from one that helps the cancer to grow back to one that will fight the cancer regrowth.

If successful we'll be in a position to take this approach into clinical trials for men with high risk localised prostate cancer, which is why this grant from Prostate Cancer UK is so important.

The body has a lot of great defence mechanisms against cancer, but sometimes it needs a nudge in the right direction. It's only through years of research into the basic biology of cancer that we're now in the position we're in today. This is an incredibly exciting time for prostate cancer research and we're proud to be part of a movement which could bring about real change for men within our lifetimes.

Claire Lewis, Professor of Molecular and Cellular Pathology and Head of the Academic Unit of Inflammation and Tumour Targeting

University of Sheffield | Department of Oncology and Metabolism
---
Prostate cancer is the most common cancer in men and the disease kills one man every 45 minutes in the UK.
Dr Iain Frame, Director of Research at Prostate Cancer UK said; "The need for research into prostate cancer is greater than ever. With an ever-increasing ageing population, the number of men diagnosed with prostate cancer is growing at a tremendous rate. In fact, the disease is on target to become the most common cancer overall by 2030.
"The pioneering research taking place at the University of Sheffield could provide us with some of the answers which could eventually change the game for men. In a bid to raise the vital cash needed to fund more research, we have launched a series of March for Men walks and we're encouraging everyone to sign up and get involved this summer."
A global reputation
Sheffield is a research university with a global reputation for excellence. We're a member of the Russell Group: one of the 24 leading UK universities for research and teaching.