Specialised MRI system and 3D brain models feature in new London exhibition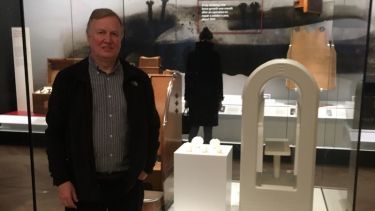 The Niche orthopaedic and neonatal MRI system was developed by Dr Martyn Paley from the Department of Infection, Immunity & Cardiovascular Disease and Dr John McGinley, who worked together at Picker International (part of GEC), to develop the first generation commercial MRI systems in the 1980s and founded their own company called InnerVision MRI Ltd. to produce specialised MRI systems in 1992 after taking up academic posts. 
The system features a compact permanent magnet and simply plugs into a single mains socket, so can be sited almost anywhere and reduces the claustrophobia of a whole body MRI system for extremity scans. The system is also very quiet unlike whole body MRI systems, so is ideal for scanning babies. 
The company applied for funding from the UK Department of Trade and Industry (DTI) and won several Small Firms Merit Awards for Research & Technology (SMART) to further fund the development. This led to a system which was initially installed in the Middlesex Hospital in London for orthopaedic research, where a number of novel studies were published. The system was cleared by the FDA for marketing in the USA in 1996, after submission of a detailed design and safety analysis and a number of systems were sold to orthopaedic clinics there as well as to a Bioengineering Institute in Auckland, NZ. 
Following a move from UCL to the University of Sheffield in 1997, Dr Paley, worked with Professor Paul Griffiths (neuroradiologist) and Dr Mike Smith (neonatologist) to install a system in The Jessop Hospital for Women (now replaced by the new Diamond Engineering Building) for neonatal MRI research. The system safely scanned over 1000 babies over a number of years and completed some important clinical studies after a move to the new Special Care Baby Unit (SCBU) in the Jessop Wing at the Royal Hallamshire Hospital in 1999. One of these studies was published in the Lancet and has become an important resource in medico-legal disputes on non-accidental injuries in neonates being cited over 250 times. 
The system won a 'Millennium Products' design award in 1999 from the British Design Council and was featured in their Millennium Dome exhibit at the turn of the century. 
Lots of research projects and PhD studies on specialised MRI have been completed using the system including development of High Temperature Superconducting radiofrequency coils to improve the signal to noise ratio. Many radiographers and radiologists have used the system to provide answers to neonatologists and parents for prognosis and treatment of their new-born within hours of birth, without having to move the baby out of the SBCU. Niche systems are still in operation after 25 years with updated software and hardware and are now being used by Emeritus Professor Paley to help develop ideas for a new specialised high field neonatal MRI system, based on a cryogen-free magnet that does not require expensive liquid helium to operate.
It has also been made possible to take pictures of the unborn baby's brain using MR imaging for over 20 years. A recent development, introduced by Dr Debbie Jarvis and Professor Paul Griffiths from Academic Radiology, allows three dimensional (3D) images of the brain to be taken before a baby is born. Those images can be post-processed to produce images of the surfaces of the brain that allows doctors to assess normal development of the brain before birth. Working in conjunction with Dr Candice Majewski from the Centre for Advanced Additive Manufacturing, University of Sheffield, it was possible to use 3D printing techniques to produce physical models of babies' brains. Some of those models are now on display at the Science Museum.
The Innovision Niche MRI system and 3D brain models are currently part of the new exhibition, Medicine: The Wellcome Galleries at the Science Museum in London.  
A global reputation
Sheffield is a research university with a global reputation for excellence. We're a member of the Russell Group: one of the 24 leading UK universities for research and teaching.