Success for Sheffield PhD Student at the Atlanta Vascular Mechanobiology Meeting 2018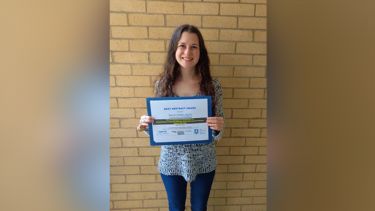 Blanca was awarded the Best Abstract Award for her investigations of the influence of the NF-κB transcription factor subunit c-Rel in endothelial mechanobiology and atherosclerosis. It has been established that atherosclerosis develops at arterial regions exposed to disturbed blood flow, and also, that blood flow patterns regulate NF-κB-mediated transcription. Although some members of the canonical NF-κB pathway are known to respond to flow, the influence of blood flow patterns on c-Rel and its role in atherosclerosis are still unknown.
Blanca's research has shown for the first time that disturbed blood flow at regions prone to atherosclerosis induces c-Rel, promoting endothelial proliferation. Her research suggests that c-Rel might contribute to the development of atherosclerosis, which could lead to the identification of c-Rel as new target for the prevention and treatment of this disease.
Blanca said "It was a very interesting and stimulating conference. I really enjoyed the opportunity to present my data and I got very useful feedback on my work. It was an unexpected surprise and honour to get one of the poster prizes and I am very pleased with the overall conference experience. I am looking forward to the 2019-edition in London!"
Find a PhD
Search for PhD opportunities at Sheffield and be part of our world-leading research.