World-leading researcher joins University of Sheffield to further accelerate translational cancer research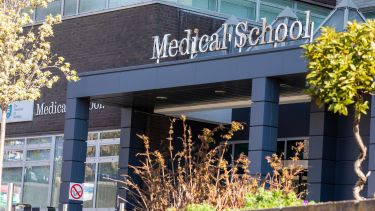 The appointment of Professor Thomas Helleday from Karolinska Institutet in Sweden reaffirms Sheffield's position as a hub for research excellence in oncology.
With the University's leading Department of Oncology and Metabolism and Sheffield Teaching Hospitals NHS Foundation Trust recently announcing a major investment in Weston Park Hospital – one of only four dedicated cancer hospitals in the country – the city is moving towards realising the vision of creating a world-class Cancer Centre.
---
I believe that this is a fantastic appointment which will give a huge boost to Oncology and Translational Biomedical Research in Sheffield and will help the journey of our Medical School to achieve its true potential and become the best it can be.

This is one step towards our vision of creating a world-class multi-disciplinary Cancer Centre in Sheffield. One in two people in the UK will develop cancer at some point during their lifetime so more effective therapies are urgently needed.

At Sheffield we are working tremendously hard to ensure that innovative and transformative treatments get quickly and effectively from the research laboratories into the clinic for the benefit of patients through experimental medicine and clinical trials.

Professor Dame Pamela Shaw

Vice-President and Head of the Faculty of Medicine, Dentistry and Health at the University of Sheffield
---
Professor Thomas Helleday will return to the University of Sheffield as a Chair of Translational Oncology after first coming to the Medical School to conduct post-doctoral research in the late 1990s.
In 2005, whilst initially at the University of Sheffield, Professor Helleday and his team of researchers demonstrated how PARP inhibitors (poly-ADP ribose polymerase) could be used as a tailored treatment for patients with BRCA2 mutations, which are seen in both hereditary ovarian and breast cancer.
The discovery, funded by Yorkshire Cancer Research, was patent-protected and licensed to the pharmaceutical company AstraZeneca, who continued the development process and undertook successful clinical trials.
The Lynparza (olaparib) drug has now become the first treatment to be approved for secondary breast cancer patients with the BRCA gene mutation.
"Being able to see that our early work in Sheffield now saves thousands of lives around the world is a fantastic experience," said Professor Helleday.
Professor Helleday has won a number of prestigious prizes including a European Research Council Advanced Research Programme Award, Cancer Researcher of the Year 2016 from the Swedish Cancer Society and the AstraZeneca Young Scientist Frank Rose Award. He will be bringing a group of leading clinicians and scientists to Sheffield to join his team.
---
Sheffield is uniquely positioned to develop and implement novel anti-cancer treatments and by working with a leading cancer centre like Weston Park we will be able to secure further fantastic achievements which build on those already pioneered right here in the city.

Thomas Helleday, Professor of Translational Oncology

University of Sheffield | Department of Oncology & Metabolism
---
The Department of Oncology and Metabolism at the University of Sheffield brings together researchers to translate scientific discoveries into clinically important advances in medical care. One example is the 'Trojan Horse' therapy for prostate cancer, developed by Professor Claire Lewis, which uses a patient's own white blood cells as 'Trojan Horses' to deliver a cancer-busting virus into the centre of tumours present in the body.
---
We are delighted that Professor Helleday is returning to Sheffield to join the Department of Oncology and Metabolism. It's a great pleasure to have someone of his talent on the team and this will certainly be a big boost for cancer research in Sheffield as well as the UK as a whole.

Professor Allan Pacey

Head of the Department of Oncology and Metabolism at the University of Sheffield
---
A global reputation
Sheffield is a research university with a global reputation for excellence. We're a member of the Russell Group: one of the 24 leading UK universities for research and teaching.