Professor Oliver Bandmann
MD, PhD
Neuroscience, School of Medicine and Population Health
Professor of Movement Disorders Neurology
Honorary Consultant Neurologist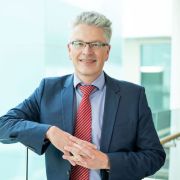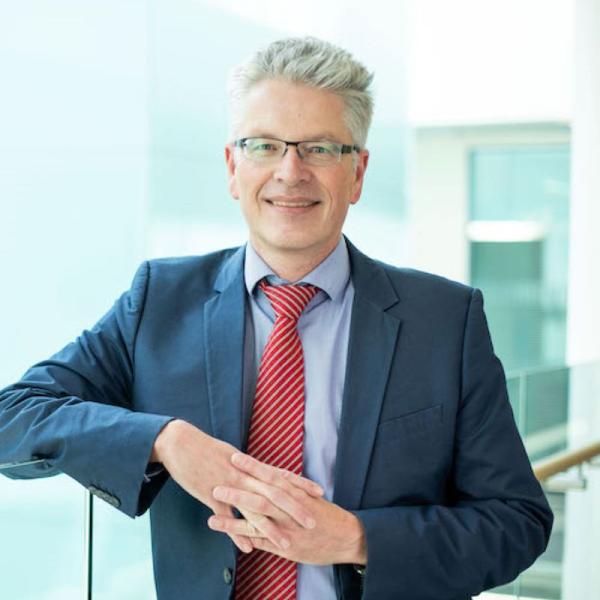 o.bandmann@sheffield.ac.uk
+44 114 222 2237
Room B32, Sheffield Institute for Translational Neuroscience (SITraN)
Full contact details
Professor Oliver Bandmann
Neuroscience, School of Medicine and Population Health
Room B32
Sheffield Institute for Translational Neuroscience (SITraN)
385a Glossop Road
Sheffield
S10 2HQ

Profile

2002-present: University of Sheffield/Royal Hallamshire Hospital, Sheffield, UK
1997-2002: Specialist Training in Neurology, Marburg, Germany;
1993-1997: Research Fellow, Institute of Neurology. Queen Square London. PhD on "Genetic Aspects of Parkinsonian Disorders" (Supervisors: Prof A.E. Harding, Prof C.D. Marsden, Prof N.W. Wood)
1992-1993: House officer, Dept Neurology, Klinikum Grosshadern, Munich (Head: Prof T. Brandt)
1991: Qualification at Ludwig Maximilian´s University Munich, Germany
Research interests

My research focuses on movement disorders, in particular Parkinson´s Disease (PD) but also Huntington´s Disease, Wilson Disease and dystonia. I'm particularly interested in working towards disease-modifying therapy for PD which would slow down disease progression.

The main areas of research within my group are as follows:

1. Mitochondrial dysfunction and compound screen with identification of neuroprotective compounds as candidates for disease-modifying treatment in Parkinson's Disease:
We were the first group worldwide to undertake detailed assessment of mitochondrial function and morphology in both parkin-mutant Parkinson's Disease and LRRK2-G2019S mutant Parkinson's Disease. We subsequently undertook the first compound screen in Parkinson's Disease mutant patient tissue. 2000 drugs were assessed for their rescue effect on mitochondrial function. A clear mode of action (MOA) was identified for a group of compounds which includes the FDA-licensed drug ursodeoxycholic acid (UDCA).

For interested members of the public: Please have a look at the official University of Sheffield press release for more information on this project. You may also be interested in listening to a BBC interview with Prof Bandmann.

Fig1. The image shows a fibroblast from a patient with Parkinson's Disease due to mutations in the parkin gene. The fibroblast has been stained to show the mitochondria in the cell. We see increased branching and interconnectedness of the mitochondrial network in the fibroblasts from patients with parkin mutations compared to controls; this change in morphology of the mitochondria correlates with changes in function. 

2. Bench to bedside – early clinical trials in Parkinson's disease

There is emerging evidence of a "Parkinson Epidemic" with a predicted global doubling in the number of people with Parkinson's from 6 million to 12 million between 2015 and 2014 (PMID:30584159).

We have now taken UDCA as the top hit of our drug screen into an early clinical trial, called the UP study (short for: UDCA in Parkinson's disease). The UP study will predominantly focus on investigating the safety and tolerability of UDCA in PD. However, we will also use novel techniques (in particular 31P-MR-Spectroscopy and sensor-based objective quantification of motor impairment) to gain some insight into the neuroprotective potential of UDCA.

MR Spectroscopy of a human brain with focussed analysis of the basal ganglia (the area most affected in Parkinson's disease)

My group is also participating in two other multicentre neuroprotection trials, testing statins and antibodies against alpha-synuclein for their neuroprotective effect.
For interested members of the public: Please have a look at the official University of Sheffield Press release for more information on this project
https://www.sheffield.ac.uk/news/nr/liver-drug-trialled-in-parkinsons-patients-1.828628

This link will take you to a webpage of the Cure Parkinson's Trust - it provides additional information on UDCA for Parkinson's:
https://www.cureparkinsons.org.uk/udca-and-pd

You may also find this video interesting during which we describe our journey from the bench at SITraN to the clinical trial carried out at the NIHR-funded Clinical Research facility at the Royal Hallamshire Hospital:
https://www.youtube.com/watch?v=izPA4-RBupw

3. Zebrafish as a new vertebrate animal model for Parkinson's Disease:

We were the first group worldwide to establish a zebrafish model of familial Parkinson's Disease at Bateson Centre of the University of Sheffield (https://www.sheffield.ac.uk/bateson).

We subsequently demonstrated that Parkin-deficient zebrafish share key features with human parkin-mutant Parkinson's Disease patients, namely mitochondrial dysfunction and loss of dopaminergic neurons. Most recently, we have identified up-regulation of TIGAR as novel mechanism leading to mitochondrial dysfunction and dopaminergic cell loss in PINK1 deficiency. Inhibition of TIGAR prevents loss of dopaminergic neurons by normalizing mitochondrial function. TIGAR is therefore a promising novel target for disease-modifying therapy in early onset Parkinson's Disease. We are now also using zebrafish to study genetic risk factors for sporadic Parkinson's and how they may interact with ageing.

For interested members of the public: Please have a look at the
official University of Sheffield press release for more information on this project.

4. Mitochondrial biomarkers in Parkinson's Disease:
We have just completed a detailed assessment of mitochondrial and lysosomal dysfunction in patients with sporadic Parkinson's Disease. This will hopefully allow to eventually identify those patients with Parkinson's Disease who are most likely to benefit from medication with mitochondrial rescue drugs.

5. Huntington's Disease (HD)
We are recruiting patients for the Enroll-HD study at our multidisciplinary Huntington's Disease clinic. As part of this, we have been frequently recruiting patients for HD drug trials and other HD studies.

6. Wilson Disease (WD)
I have previously contributed to the development of the first validated clinical rating scale for the neurological impairment in Wilson Disease. More recently, we have conducted the first study on the genetic prevalence of Wilson Disease in the UK in collaboration with the Welcome Sanger Institute, Cambridge, UK. This study demonstrated a surprisingly high ATP7B carrier frequency which suggests that WD may be considerably more common than previously thought. In collaboration with the Sheffield Diagnostic Genetics Service, we also identified novel genetic mechanisms in WD patients.

In close collaboration with the Wilson disease patient self-help group, we have helped to establish a UK-wide, interdisciplinary Wilson disease network. This network will hopefully allow us to develop national standards for the care of Wilson disease patients and facilitate future research projects.
Publications

Journal articles

Chapters

Conference proceedings papers

Preprints
Research group

Clinical Fellows: Dr Tom Payne, Dr Emily Reed
UP study Trial Manager: Sarah Moll (co-funded by Sheffield Neuroscience BRC)
Post-doctoral scientists: Dr Lisa Watson (ne Trollope), Dr Deepak Ailandi
PhD students as primary supervisor: Mohammed Karami, Hannah Larbalestier, Emma White

Co-supervision with Dr Heather Mortiboys:

Postdoctoral scientist: Dr Helen Rowland
PhD students: Chris Hastings, Ruby McDonald, Rachel Hughes
Technician: Sarah Roscoe
Grants

The UP Study is predominantly funded by the JP Moulton Foundation, but also supported by Cure Parkinson's UK and the Sheffield Neuroscience BRC.

My research is also supported by the Medical Research Council (MRC), the Michael J Fox Foundation (MJFF) and the University of Sheffield. In the past, I've also had substantial funding from Parkinson's UK.
Teaching interests

I was the Dept Neuroscience Undergraduate Teaching Lead/Director for Teaching and Learning for 15 years (2002-2017). I was also the University of Sheffield BMedSci Programme Director for 5 years (2013-2018).

I twice won the "Consultant Teacher of the Year" award of the Sheffield Medical Student Society MedSoc.

I continue to contribute to all undergraduate phases of our MBChB course and also contribute to SITRaN-based MSc courses.

I am now the academic training lead for the STH Neuroscience Directorate and also the Training Lead for our NIHR-funded Sheffield Neuroscience BRC.
Professional activities and memberships

Member of the Editorial Board of the clinical Neuroscience Journals NEUROLOGY and Parkinsonism& Related Disorders
Member of the MRC-DPFS Panel
Deputy Chair of Association of British Neurologists (ABN) Research Committee
Chair of the ABN Movement Disorders Advisory Group
Movement Disorders Theme Lead of STH Academic Neuroscience Directorate and the NIHR-funded Sheffield Neuroscience BRC

Awards and esteem factors

1984-1991: Bavarian Scholarship for highly gifted students
1986-1991: German Scholarship for highly gifted students ("Studienstiftung des Deutschen Volkes")
1993-1997: Training Fellowship of Deutsche Forschungsgemeinschaft (DFG)
1996: Presidents Prize of Royal Society of Medicine
1997: Queen Square Prize of Institute of Neurology
2000: Oppenheim Prize of German Dystonia Society
2006: "Consultant Teacher of the Year" Prize of "Med Soc" (organization of medical students at UoS Medical School)