Our imaging research in abdominal imaging focuses on the following main topics: chronic kidney disease (CKD) including diabetic kidney disease (DKD) and autosomal dominant polycystic kidney disease (ADPKD), chronic liver disease and drug-induced liver injury (DILI).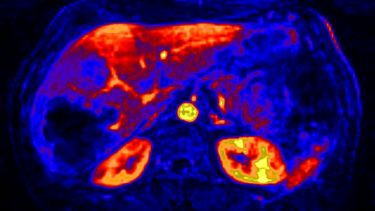 On
Our research in these areas covers; development of dedicated imaging biomarkers for these applications, improved assays and clinical studies to evolve their potential utility.
The rising prevalence of CKD poses a major public health challenge affecting >10% of the population. However, the field has seen few new treatments, and an alarming number of large recent CKD progression trials have failed. In order to overcome these challenges, there is an urgent need for better biomarkers to identify patients that are at risk of progression, or are likely to respond to candidate therapeutics. We believe MRI biomarkers have a high potential to help fill this gap as they are non-invasive and sensitive to CKD pathophysiology.
Our research in this space covers a number of areas, including the development of novel methods such as a technique to measure single-kidney function, developed with funding from Kidney Research UK, and applicable in assessment of renal artery stenosis and healthy donors. We are also a main contributor to the setup of a national infrastructure to integrate advanced MRI in clinical trials (UKRIN-MAPS), where our role is to set up a central image processing facility. We are currently also taking this role forward in the NIHR study AFiRM that will recruit 500 CKD patients and follow them up with MRI. We are also leading an EU-wide network PARENCHIMA that aims to promote international coordination of research in this space.
Our ADPKD research aims to improve the understanding of progression in patients with ADPKD, particularly at an early stage, to optimise opportunities for intervention to facilitate timely access to treatment or enrolment in clinical trials. This involves evaluating the feasibility and efficacy of using both established and novel renal MRI techniques. Additionally, we are active in assessing novel treatments for ADPKD and health care delivery associated with patient benefit at both an individual (personalised) and population level. This includes evaluating quality of life and health economics with the intention of improving the overall patient experience and care.
Current projects focus on:
Developing translational methods of measuring total kidney volume (TKV) to inform progression
Identifying a prognostic signature for patients with rapidly progressive ADPKD involving functional MRI techniques
Evaluating treatment for ADPKD
Studies on extrarenal manifestations of ADPKD including polycystic liver disease.
DKD is the most common form of CKD and is traditionally classified based on albuminuria and reduced kidney function, but these have limitations as prognostic biomarkers due to the heterogeneity of DKD. Novel prognostic markers are needed to improve stratification of patients based on risk of disease progression. In order to address this question, we are coordinating the iBEAt study, part of the BEAt-DKD consortium, which aims to determine whether renal imaging biomarkers (MRI and ultrasound) provide insight into the pathogenesis and heterogeneity of DKD, and whether they have potential as prognostic biomarkers in DKD progression. iBEAT is a prospective multi-centre observational cohort study recruiting 500 patients with type 2 diabetes (T2D) and eGFR > 30ml/min/1.73m2. Our role is in coordinating the study but also in setup, quality assurance and processing of the imaging data.
CLD is a progressive disease characterised by increasing levels of fibrosis, fat accumulation, and ultimately liver cirrhosis potentially leading to liver cancer. We have developed new methods to characterise the effect of CLD on how the liver functions, and are applying those in a number of clinical questions. An important example is in risk assessment for major hepatectomy, a potentially life-saving intervention for patients with liver cancer or liver metastases. Hepatectomy also carries a major risk of severe complications, especially in patients with some form of CLD, and therefore is only offered if this is considered to be safe. We believe our new MRI methods can offer a more accurate assessment of risk and therefore will allow more patients to undergo this treatment in the future. While we are continuing to develop improved methods, we are also running a major clinical study (HEPARIM) aiming to recruit 130 patients selected for major hepatectomy. Our aim is to determine if we can correctly predict post-operative liver function in these patients. 
Inhibition of hepatobiliary transporters has been identified as a key initiating mechanism by which drugs may cause DILI. Furthermore, inhibition of hepatic uptake transporters may cause elevated drug concentrations in plasma, while inhibition of biliary efflux transporters can cause intra-hepatocyte drug accumulation; both of these processes could result in DILIs. Noninvasive whole body imaging enables the direct investigation of hepatobiliary function in vivo, and quantification of effects of drugs on hepatobiliary transporter function.
We are a main contributor to the liver work package of the EU-project TRISTAN that will validate and make available new liver imaging techniques that will help drug developers bring new, safer, drugs to market and thereby enable doctors to treat their patients more effectively. Our role in TRISTAN is to develop imaging methods for predicting drug toxicity, and evaluate those in preclinical and clinical studies together with our partners in industry and other academic collaborators. 
People

Susmita Basak (Research fellow, HEPARIM)
Eve Shalom (PhD student, CFD in liver)
Bashair al-Hummiany (PhD student, CKD biomarkers)
Fotis Tagkalakis (PhD student, Renal MRI motion correction)
Mohamed El-Sharif (MD student, HEPARIM)

Current Projects / Grants

Past Projects / Grants

10/2016 – 10/2019. Functional magnetic resonance imaging to determine severity of cirrhosis in individuals with chronic liver disease. Leeds Anniversary Research Scholarship. Role: Supervisor 
07/2013 – 12/2017. Optimisation and validation of single-kidney GFR measurement with dynamic contrast-enhanced MRI. Kidney Research UK Project Grant. Role: PI
12/2012 – 12/2016. Measuring renal function with dynamic contrast-enhanced MRI: tracer-kinetic model-driven image registration. EPSRC - GlaxoSmithKline, CASE PhD studentship. Role: PI. 
06/2012 – 06/2014. Measuring liver function and perfusion with DCE-MRI: validation and application to chemoembolization of hepatocellular carcinoma. Great-Britain Sasakawa Foundation Travel Grant. PI

Recent Publications
Flagship institutes
The University's four flagship institutes bring together our key strengths to tackle global issues, turning interdisciplinary and translational research into real-world solutions.