Careers and further study
With a medicine degree, you'll be prepared for a rewarding career as a doctor. You may also choose to do further specialist qualifications.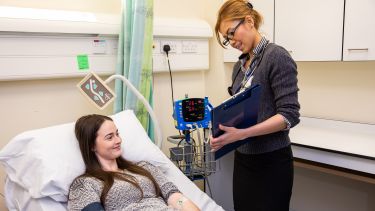 Off
After graduating, you'll become a Foundation Year 1 doctor, working primarily in hospitals to consolidate your knowledge. This is followed by a further Foundation Year.
These two years give you a structured and comprehensive continuation of undergraduate studies and lead on to speciality training.
You might choose to become a GP or train to become a hospital consultant. Some graduates become academic teachers of medicine, and some go into research. Others join the pharmaceutical industry, while some become managers within the health service.
Whatever route you follow, our course prepares you for the lifelong learning needed in medicine.
On successful completion of your medical degree, you can apply for provisional registration with the General Medical Council (GMC). This gives you licence to practise medicine, providing you meet all of the GMC's 'Fitness to Practise' guidelines.
Intercalated degrees
Once you have successfully completed the first two years of the course you'll have the opportunity to apply for an intercalated BSc Medical Sciences Research degree or Masters degree. 
The BSc option comprises a year of research that is typically taken in Phase 3a. A broad range of research subjects, usually with associated funding, is available each year, including research in areas such as cancer studies, anatomy, physiology, psychiatry, immunology, and pathology. You might choose to pursue a research topic that you experience during a research attachment in phase 2 of you course.
Some students delay starting an intercalated degree until they have had more clinical experience – the choice is yours. A BSc Medical Sciences Research degree provides basic research training and is highly respected by employers in medicine.
You can choose to undertake an intercalated degree at Masters level once you have completed three years of your course. There is a broad range of Masters courses available across the University, both in the Faculty of Health, and the Faculty of Science.
Further study
If you choose to continue studying after graduation, there are a range of postgraduate study options for you to pursue within the School of Medicine and Population Health and beyond. We offer a broad range of Masters degrees and PhD opportunities in fields such as neuroscience, molecular medicine, oncology, reproductive medicine and cardiovascular medicine.
Weekly online events
Attend an online event when it suits you, all year round, as an alternative to an open day.
Every Wednesday, Sheffield Live sessions cover different aspects of University life. You can also meet your department and learn more about studying your subject.