10 ways our research has helped to understand the impacts of covid-19 in 2020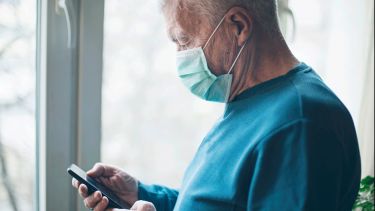 From Economics through to Urban Studies, our teams have been able to work with individuals and organisations online, access the latest data and learn from previous projects and world events, to produce timely and relevant research on the pandemic. 
Here's how: 
Caring for our carers
In the latter half of the year, Dr Matthew Lariviere and his team within the Centre for International Research on Care, Labour and Equalities (CIRCLE), produced a report calling for investment in digital technology to support unpaid carers during lockdown. The report found that using digital technologies helped carers to become part of communities, helping with their health and wellbeing as well as providing a good source of practical support. 
Find out more about the report, which could help the  9.1 million people in the UK who provide unpaid care looking after a family member, friend or partner. 
---
Repurposing the 'corporation' for a more resilient economy post covid-19
The Covid-19 pandemic has revealed weaknesses within even the largest, well-established companies. But Professor Adam Leaver from the Sheffield Management School and Professor Andrew Baker from the Department of Politics teamed up with academics at Queen Mary, University of London and Copenhagen to ask whether those weaknesses are caused by the pandemic, or consequences of excesses in the non-financial (or non-banking) corporate sector post-2008?
'Protection should begin with a repurposing of the corporation to promote the 'just economy',' said Professor Baker, 'improving economic resilience and social wellbeing, where citizens can reasonably expect regulatory authorities to offer protections from these types of vulnerabilities.'
---
How does covid-19 impact children's play?
A project from the School of Education received funding from the Economic and Social Research Council (ESRC) to explore how children play during the Covid-19 pandemic. 
The 15-month project was launched to observe how children are currently playing in person and online, and look at how games are emerging as a result of the pandemic. Alongside a survey where children and parents can tell their stories, there will be an opportunity for families to make videos or audio reports about their experiences. The project will end with an online exhibition curated with the V&A Museum of Childhood, a sound archive hosted by the British Library drawn from a subset of the data, a toolkit for talking with children about play in times of anxiety co-created by the Great Ormond Street Hospital play team, and a radio documentary about the research produced.
---
Will the public trust the covid-19 contact tracing app?
As the government prepared to launch the NHS contact tracing app back in May 2020, the Living With Data team from the Department of Sociological Studies looked at previous research into public attitudes, suggesting that winning trust would not be straightforward.
The review found that almost all research into the UK public's attitudes to data gathering over the past five years has concluded that people have concerns about it. For public sector data-driven systems, these generally relate to whether it is possible for personal data to be kept secure, even if data controllers aim to do so. With data-driven systems run by private companies, people worry about whether data will be sold or shared without their knowledge or consent.
---
How has covid-19 impacted on arts and cultural fundraisers?
A new collaboration between the University of Sheffield and the Chartered Institute of Fundraising is hoping to help arts and cultural fundraisers and organisations by gathering information about the impact of Covid-19 and inform government policy and future support for fundraisers. 
Dr Marta Herrero, Lecturer in Cultural and Creative Industries for the Management School, said: 'Our aim is to help arts and culture organisations fundraise most effectively under challenging and uncertain circumstances due to Covid-19. We seek to gather quantitative data to inform the provision of targeted support to the fundraising profession, including the delivery of skills development training.' 
Find out more about the research project 
---
Shaping the cities of tomorrow in the wake of Covid-19 
Academics from the Urban Institute at the University of Sheffield have brought their research together to analyse whether the scale and severity of global pandemic Covid-19 has changed the perspective of what urban development and an 'urban future' might look like. 
'New questions have arisen because of coronavirus, like how do we intervene in a rapidly changing context where there are severe constraints on our ability to undertake fieldwork in person? And what can we say that is meaningful when we are still trying to make sense of the world around us?' said Professor Simon Marvin, Director of the Urban Institute. 
Read the discussions from members of the Urban Institute, including the politics of urban Covid-19 control, energy access and maintaining health in pandemics, and why we need to requisition property to address the pandemic. 
 
---
New ways of working during the pandemic can offer a new blueprint for social action
Covid-19 has enabled the kinds of collaborative and community-based working that can offer a new blueprint for social action, according to new research from the Management School. The report highlights the significance of hyper local, informal volunteering and good neighbourliness, as demonstrated by the rise of groups like Mutual Aid, something explored in the first report from the team, Lessons from lockdown.
Led by Dr Jon Burchell, the team is supported by £382,000 of funding from the Economic and Social Research Council (ESRC) as part of the UK Research and Innovation's rapid response to Covid-19, and has brought together experts from the universities of Hull, Sheffield, and Leeds. 
---
Returning to work after Covid
For those working from home or on furlough during the pandemic, the lack of structure and routine has created a cause for concern over people's mental health throughout lockdown. Many have lost access to the social support and interactions that come with physically being in the workplace, and the added stresses of caring for family and avoiding the illness can make for a difficult WFH environment. 
Professor Karina Nielsen, from the Management School, is addressing the need to ensure workers are supported on their return to work, by developing a toolkit to provide guidance for employees, colleagues, management and Human Resources, with the aim of supporting a sustainable return to work. 
---
Coronavirus: people turn to their local news sites in record numbers during pandemic
Interest in news from people's own neighbourhoods has prompted a significant digital spike this year, thanks to the pandemic, with people turning to their local newspaper websites for a clearer understanding of the local implications of this national crisis.
Dr Rachael Jolley from the Department of Journalism Studies wrote about this wave in trust for the local news, for the Conversation UK. 
---
Domestic abuse and mental ill-health: twin shadow pandemics stalk the second wave
Dr Michaela Rogers, Senior Lecturer in Social Work for the Department of Sociological studies teamed up with Dr Parveen Azam Ali, Senior Lecturer in the School of Nursing and Midwifery, to explore how two shadows of the covid-19 pandemic – one of domestic abuse and one of mental health – are intrinsically linked. 
The pair wrote about their discoveries in the Conversation UK.
Flagship institutes
The University's four flagship institutes bring together our key strengths to tackle global issues, turning interdisciplinary and translational research into real-world solutions.