What can the pandemic teach us about work?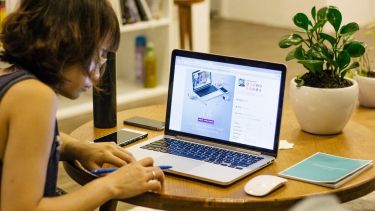 The pandemic has shown that employees can work from home – but there are some benefits and costs to this way or working.
Dr Carolyn Axtell is a Senior Lecturer for the Institute of Work Psychology within the Sheffield University Management School. She's an expert in virtual and remote working, wellbeing, and the organisation of work.
We spoke to Dr Axtell to find out what we can learn from the Covid-19 pandemic, when it comes to the way we work. 
"There are some advantages to being able to work from home. Having this flexibility has been associated with better employee wellbeing and motivation, in part due to the ability to manage work and non-work demands more easily, like being at home when children come home from school, or for engineer visits. There are also benefits like having more time, due to not commuting, and environmental factors that come into that, too. However, prior to the pandemic, only 5% of the UK workforce worked from home as their main place of work according to the Office of National Statistics." 
"I think one of the barriers to working from home in the past has been a lack of trust from management," said Dr Axtell. 'Employees often haven't been allowed to work from home because managers don't trust that they will do their work, but there isn't actually any evidence to suggest that people are less productive when they're working at home, under normal circumstances."
"In fact, research from before the pandemic shows that people often work longer hours and can be more productive than when they're in the office. That's because employees have a tendency to work extended hours, they aren't commuting and they're often using the time that would be used to commute to do work. They also don't have the same level of interruptions from office activity and so can work more intensively on a piece of work. In addition to that, there may also be some element of reciprocation, where those allowed to work from home repay that trust by working harder."
When the covid-19 pandemic hit in early 2020, the UK government announced that people should work from home unless it's absolutely necessary to be in the workplace. While key workers kept the country afloat in areas like healthcare, catering, customer service and construction, the majority of us in desk-based jobs moved from the office to our dining table or spare room. 
"The pandemic caused a shift in working patterns that I don't think we ever would have seen otherwise," Dr Axtell said, "but I do think there needs to be an important caveat with that, because research suggests that part-time remote working is preferable to  full-time. This is because whilst there may be benefits to working away from the office, there are also costs and demands, particularly in terms of social and professional isolation, and access to support. Therefore, we need to try to balance those benefits and costs. 
"When working from home we're not seeing colleagues or having those 'water cooler' moments where we bump into someone in the corridor, have a chat or share an idea. Virtual meetings are definitely better than not interacting at all, but it's not the same as having a face to face group discussion, and it's not the most efficient way of information sharing and tackling creative tasks. Misunderstandings may be more likely to occur. We're missing the personal interactions and the richer information exchange that occurs when you're in the same location."
As a result of many employees having to work from home, and showing that they can work this way, a number of big name brands have realised the benefits and announced that entire operations will be done remotely moving forward. 
"It's important that organisations don't make these decisions without considering employee preferences and the costs of this way of working," said Dr Axtell. "Choice and autonomy are absolutely key. Being forced to work from home is unlikely to have the same benefits. As we've seen during the pandemic, employees have had to work from home even if they would prefer not to. In the long term, having to work from home and having no choice about that would likely have negative effects on employee wellbeing." 
"It would be good if, once the pandemic is over, more employees in occupations where they can feasibly work from home are given the opportunity to do so, at least occasionally, and be allowed more flexible working. If you're given the autonomy and control to work at a time and place that suits you best, it can be beneficial for wellbeing, motivation and even willingness to stay with an employer. Flexible working is something many employees value". 
Dr Axtell added: "Businesses and organisations who don't adapt and encourage more flexibility following the pandemic may struggle to keep good people, but this doesn't mean that working from home should be the only way of working. Organisations need to listen to what their employees want to do. There will likely be some variation and different personal preferences."
But for now, the pandemic continues and many of us continue to feel the effects of working from home full-time without a choice.
"We can really feel the costs and demands of this way of working when we are forced to be at home all the time and have no real say on the matter," said Dr Axtell. "The problems relating to isolation and lack of social support are exacerbated in this full time home-working arrangement. Many parents are also struggling with home-schooling and so are not getting the benefits of productivity and work-family boundary management that might be gained under normal circumstances."
"In addition, because our home and workspace are the same place at the moment, it's much harder to detach from work at the end of the day. Being able to detach and stop thinking about work is crucial for mental health and wellbeing because it allows us to recharge our batteries and regain energy."
So what can we do to give ourselves a break and ease the pressure of those demands?
"Organisations can help by ensuring there are opportunities for support and interaction with co-workers, like online coffee meetings and other forums. There also needs to be understanding from organisations about the pressures of managing work and creating boundaries during the pandemic, especially for parents, and to adjust expectations about productivity accordingly.
"In terms of detaching from work, it can be a good idea to replace the change of scene provided by the commute by getting out for a walk, especially if you can do that after work. If you can't get out for a walk then having another ritual or activity that signals the end of work and the start of leisure time can be helpful, like an exercise routine, packing away your work so it is not visible and moving to a different room for leisure time. Some people find a commute helpful for unwinding and creating a release from both work and family demands for a while. Having that 'me time' can be really important, so finding a way to recreate that could be helpful."
Find out more about Dr Axtell and her work, or follow her on Twitter @axtell_carolyn. 
Flagship institutes
The University's four flagship institutes bring together our key strengths to tackle global issues, turning interdisciplinary and translational research into real-world solutions.