The Korean Language Futures conference will be held on June 29-30, 2023 in Mappin Hall (Mappin Building) at the Univeristy of Sheffield.

The conference schedule has now been published - see information below.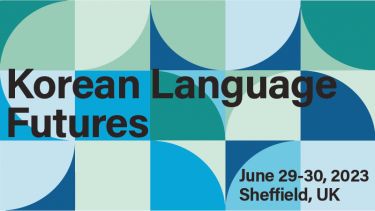 Off
What does the future of Korean language practices look like?
How can Korean language practices in the present shape the future of scholarship on language, culture, and society? These questions motivate KOREAN LANGUAGE FUTURES which aims to bring together scholars working on diverse aspects of the Korean language and speech communities around the world. Korea/n has not typically been a site for theory-building within sociolinguistics, linguistic anthropology, or related fields. However, emerging trends both on the Korean peninsula and away from it, across native speakers and language learners, point to a new range of issues and topics that can (re)define topics in Korean sociolinguistics and influence broader sociolinguistic theory. This conference aims to bring together researchers from the UK, Europe, and East Asia to forge new directions, new relationships, and new pathways to the academic study of Korean language-cultures.

This two-day hybrid conference welcomes papers across the following topics:
• Language and migration
• Capitalism, value, and skill
• Technology, script, and mobile communication
• Varieties of Korean English
• Standards, dialects, and language hierarchies
• Overseas education and language-based groups
• Language and popular culture
• Semiotics, signs, and registers
• Language, socialisation, and schooling
• Verbal arts and performance
• Linguistic/semiotic landscapes in Korea
• Translanguaging practices
• Youth language, identity, and language ideology
---
TO REGISTER FOR THE CONFERENCE (IN PERSON OR ONLINE) PLEASE REGISTER VIA THE FOLLOWING GOOGLE FORM:
---
CONFERENCE SCHEDULE
THURSDAY 29 JUNE
MAPPIN HALL, UNIVERSITY OF SHEFFIELD
10:00 - 10:15       Conference welcome
10:30 - 12:15       Panel 1 Intersections of language and migration
Rakgyun Shin: A sociophonetic study of accommodation in North Korean speakers living in New Malden, the case of /ʌ/

Narae Park: Awareness and attitudes towards migrants in South Korean mass media

Taeyeon Yoon: Language ideology in practice in a Korean complementary school in the UK

Nicolas Tranter: discussant
12:15 - 1:15  Lunch
1:15 - 3:00           Panel 2 Frontiers of Korean Language Education
Cuie Xu: The Internal and External Factors Influencing Korean Teaching Practices

Soyoon Park: Critical Discourse Analysis of Gendered Performance and Perception before, during and after Study Abroad: A Case of Korean Language Learners in the United Kingdom

Dylan Williams: South Korean higher education English-medium instruction (EMI) policy: From 'resentment' to 'remedy'

Kook-Hee Gil: discussant
Break
3:15 - 5:00     Panel 3 New dimensions of media, work, and technology
Hana Jee: Your 정의 is different from my 정의: Exploring semantic differences between two Korean media over identical political concepts

Mike Prentice: Organizational overhearing: Anonymous workplace gossip platforms and new dynamics of listening in South Korean corporations

Jinsook Choi: "It is not Ban-mal, but Pyoung-eh": 'Horizontal' Organization Culture and Language Ideology in a Korean Startup Company 

Kyoungmi Kim: discussant
FRIDAY 30 JUNE 
MAPPIN HALL, UNIVERSITY OF SHEFFIELD
10:15 - 12:00       Panel 4 New registers of globalising Korean
Alex Baratta: The societal codication of Korean English

Caitlin Marie Hogan: One does not necessarily need to understand satoori to know that it is hot": Attitudes to Korean Regional Dialects (사투리) among English-speaking K-fans on Twitter

Kyung-Nan Linda Koh: Translating ethical consumption: Vegan food promotion in Seoul

Ben Rampton: discussant 
12:00 - 1:00  Lunch
1:00 - 2:45 Panel 5 Language, culture, and change
Jieun Kim, Sunkyung Kwon, Yoonhee Kang: Voice of Spirits in Korean Shamanism: do different spirits have different voices

Yeonju Bae: Resistance to hierarchy or reproduction of hierarchy?: On shifting Korean sibling terms

Jieun Kiaer: Hallyu, AI and VR – how can technology-empowered teaching make language learning enjoyable, sustainable and effective?  

Joseph Sung-yul Park: discussant 
Break
3:00 - 5:00  Research & Pedagogy roundtables